January 19, 2019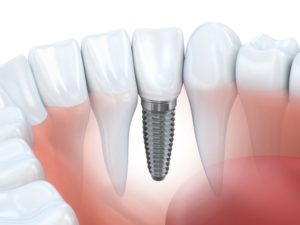 You're thinking about getting dental implants in Jacksonville. Maybe you've heard of their wonderful advantages, such as their stability and durability. With a 95% ten-year survival rate, dental implants offer a great option for restoration. However, although rare, failure does happen. It is important that you get all the information about potential problems before you commit to getting implants. Answer your questions about dental implant failure in Jacksonville right here.
What is dental implant failure?
In most dental implant procedures, the implant or screw is placed into a socket, where over the course of a few months the bone grows around it and fuses to it. Then it is topped with a prosthetic crown. It should feel, look, and function much like a natural tooth. Dental implant failure basically just means that the implant is not secured to the bone. Failure does not come from the body rejecting the implant, as can happen with organ transplants.
There are generally two types of dental implant failure: early and late. Early failure occurs within the first 3 to 4 months after surgery when an implant is placed but fails to bond with the bone. Late failure refers to when the implant has integrated with the bone properly, but then bone loss begins to happen around the implant one to ten years later.
Why do some dental implants fail?
If you have a qualified, experienced dentist in Jacksonville place your implants, many risks of failure are taken care of. However, implants can fail due to several causes including the following:
Improper oral hygiene, which allows bacteria to grow and cause infections.
Bruxism—clenching or grinding your teeth—or misaligned bites, causing extra stress and pressure on the implants.
Mistakes made during the surgery or placing the crown too soon after surgery.
Chronic health conditions, such as diabetes, autoimmune disorders, or osteoporosis.
Certain medications, like bisphosphates for osteoporosis.
Poor overall health.
How can I prevent dental implant failure?
Some dental implant failures occur despite everyone's best efforts. Late failures can happen even with the proper maintenance. But taking the following steps can help prevent implant failure:
Choosing a dentist who is experienced in implant restoration.
Telling the dentist about your existing conditions and medications.
Practicing good oral hygiene, such as brushing twice daily, flossing once daily, and visiting the dentist for semiannual checkups and cleanings.
Maintaining good overall health.
In the end, it is important to know that dental implant failure is a possibility, even though it certainly isn't likely. Being fully informed allows you to make the best decision for your tooth restoration. And, as with most dental procedures, if you are uncertain whether dental implants in Jacksonville are right for you, contact your dentist for a consultation. Together you can assess your risks for failure and create a personalized treatment plan that will meet your needs and keep you smiling for years to come.
About the Practice
At North Jacksonville Complete Dentistry, Dr. Ryan Johnson, Dr. William Baxter, and the staff are all dedicated to meeting their patients' needs. Offering comprehensive dental care, they can provide dental services ranging from cosmetic to emergency, preventive, and restorative dentistry. To make an appointment, you can call (904) 751-4958 or click here.
Comments Off

on What Causes Dental Implant Failure in Jacksonville?
No Comments
No comments yet.
RSS feed for comments on this post.
Sorry, the comment form is closed at this time.