Dental Crowns & Bridges – Jacksonville, FL
The Building Blocks of a Renewed Smile
While we aim to help patients prevent tooth trauma and decay through routine preventive measures, sometimes, problems develop despite our best efforts. In cases of serious decay or injury, a dental crown or bridge may be the best solution for restoring your smile back to its good health. Keep reading to learn more about how these treatments work, and what to expect if you need a dental crown or bridge.
Why Choose North Jacksonville Complete Dentistry for Dental Crowns & Bridges?
Restorations specially-made for each patient
One-visit crowns & bridges with CEREC
Designed to look natural & last a lifetime
What Is a Dental Crown?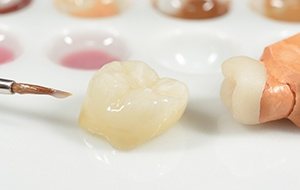 A dental crown is a tooth-shaped restoration that is custom-made to fit securely over a decayed or broken tooth. To place a crown, the tooth is first reshaped to accommodate the restoration, which is cemented on top either in the same appointment or in a follow-up visit.
A dental crown may be recommended in the following cases:
Broken or cracked tooth
Weak or worn tooth
Serious tooth decay
To replace an old or failing cavity
To restore a root canal
For a single missing tooth (when supported by a dental implant)
Significant cosmetic issues affecting the front teeth
One-Visit Crowns with CEREC Technology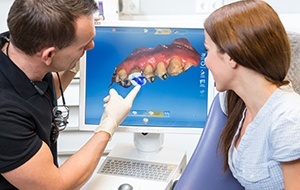 The conventional method for a dental crown requires two visits to the dentist and a week or more spent waiting with a temporary restoration in between. With CEREC, your dentist can plan for, create, and place your new porcelain crown in a single visit. It works using CAD/CAM (computer aided design and manufacturing) technology, and research shows the restorations can last just as long as crowns prepared in a separate lab. Porcelain crowns look and function just like your natural tooth -- and with the procedure completed in just one appointment, you can save sick leave and have your smile restored sooner.
What Is a Dental Bridge?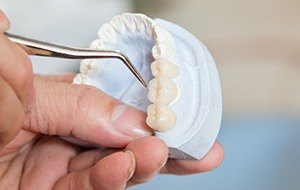 A dental bridge is a restoration that can replace one, two, or several consecutive missing teeth. With a dental crown placed on each tooth surrounding the gap, a literal bridge forms over the gap -- successfully restoring your ability to eat, speak, and smile with ease. A fixed bridge is completed over the course of at least two visits to our office: one for preparation and planning, and the second for the placement of the bridge.
The benefits of a fixed dental bridge include:
Restore form and function of the teeth
Prevent the surrounding teeth from drifting out of place
Highly customizable to blend well with the surrounding natural teeth
Offer an efficient method of replacing missing teeth
Maintenance for a Crown or Bridge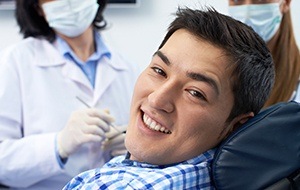 With proper care, your crown or bridge can last for decades. Maintain excellent dental hygiene and continue to visit our office as recommended for checkups and cleanings. Avoid biting into excessively hard or sticky foods with your crown or bridge. If you play contact sports, it's a good idea to invest in a custom-fitted mouthguard.
Call Us Today!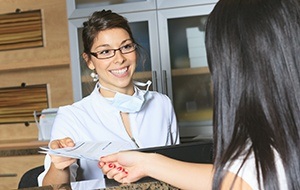 Are you dealing with damaged or missing teeth? Don't wait to find a solution. A high-quality, natural-looking restoration can restore your smile beautifully. We invite you to contact us to schedule an appointment for excellent restorative dentistry today.