Dental Care Beyond Expectations Complete Dental Care
The team at North Jacksonville Complete Dentistry works hard every day to provide a wide array of dental services that can serve all of your family's needs. You can trust that if it involves your teeth, we can take care of it for you. No matter who comes into our office, you can be sure that your Dunn Ave. dentist has the knowledge and the training to give them exactly what they need. Complete Dentistry
Our approach to dentistry goes beyond your teeth and mouth. Rather than simply fixing your teeth over and over again, we will examine your head, neck, and jaw to make sure we know the root cause and effects of any problems you might have. This comprehensive approach can make all the difference when it comes to the long-term health of not just your smile, but your whole person. 5-Star Service
You should feel comfortable as soon as you walk into our Dunn Ave. office, and we take the extra effort to make sure that happens every time. Our team will greet you warmly whenever you come to visit us, and your doctor will always take the time to listen to you and let you know exactly what is going on during your appointment. Dental Insurance Accepted
We accept most major PPO insurance plans, and will even work with your provider if we are out-of-network. We will make it as easy as possible for you to use your dental insurance to get the care that you need. We're always available to answer any of your questions about your particular dental insurance plan.
Meet the Dentist
Dr. William Baxter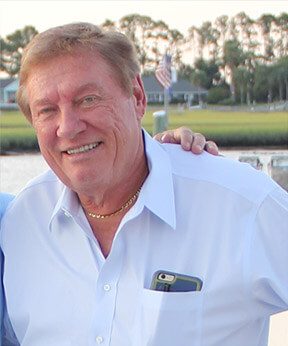 Dr. William Baxter is friendly, good humored, and at first encounter, you can tell that he genuinely cares about people. Dr. Baxter lives in Jacksonville with his wife Nancy, where he enjoys traveling and is an avid golfer.
Dr. Baxter graduated from The University of Pennsylvania School of Dentistry and served in The United States Coast Guard. He then opened a practice in Monticello, New York and practiced there until he opened our Dunn Avenue office in Jacksonville, FL in 1996. Since then he has strived to provide the best dental care to all of his patients. We all feel happiness and blessings knowing that Dr. Baxter is part of our dental family.
Our Patients Love Us
In a world of flashy marketing campaigns, quality still speaks for itself. Here are what our current patients have to say about their experience with their Dunn Avenue dentists:
My entire family have been patients of Doctor Baxter's for many years. I'm impressed with the care and genuine concern for patients that Doctor Baxter's staff always demonstrates. Every dental procedure is performed with very gentle care by Doctor Baxter and his associates. The office is excellent in following up with your dental care for the long haul."
– Suzanne, Jacksonville, FL.
I have known Dr. Baxter for many years, and am happy to say that he is one of only three dentists I have ever let work in my own mouth. I take my oral health very seriously and screen my providers diligently. The name Jacksonville Complete Dentistry could not be more accurate. As soon as you walk through the door you will feel like family."
– Michael Romani, Jacksonville, FL
Dr. Baxter is an amazing dentist. He takes the time to do things right, and takes pride in his work and his relationships with his patients. He is an honest and sincere dentist and explains all your treatment options in a respectful manner. Dr. Baxter is extremely knowledgeable and up to date on all the newest dental issues. "
– Lisa Fischer, Jacksonville, FL
These are just a sample of our many 5-star reviews. While people might be busier and busier these days, our patients continue to make time to sing our praises.
How to Find North Jacksonville Complete Dentistry
North Jacksonville Complete Dentistry is conveniently located just a few minutes off of Hwy 95:
1566 Dunn Avenue
Jacksonville, FL 32218
No matter which direction you are coming from, you just need to get on Hwy 95 and take the exit for Dunn Ave., which will automatically take you in the right direction. After a short 5 minute drive, simply follow Dunn Ave. slightly right and we will be on your left. If you pass Rutgers Road, you've gone too far! We're never left wanting for food on Dunn Avenue, as we're conveniently located near just about every restaurant you can imagine (McDonald's, Pizza Hut, Starbucks, Popeye's, etc.), as well as the Dunn Avenue Plaza.
Complete Dental Care Right on Dunn Ave.
We're pleased to offer a wide variety of dental services that you'll rarely find at just one practice. Nothing is too small or too complicated for us to handle, and you can always rest assured that you are in the best hands possible.
Our services include:
We Accept Dental Insurance
At North Jacksonville Complete Dentistry, we are in-network for several different insurance providers:

If your insurance is not on our list, we are happy to file your claims for you as a courtesy. We understand that you may have questions about dental insurance that are specific to your plan. If that is the case, simply contact us any time and we can provide you with specifics.
Contact Us to Learn More!
All the dental care you could ever need is now available at our convenient Dunn Avenue location. If you have any questions about how we can help your teeth, or want to schedule an appointment, please contact us today. Come see the difference complete dentistry can make.