What to Expect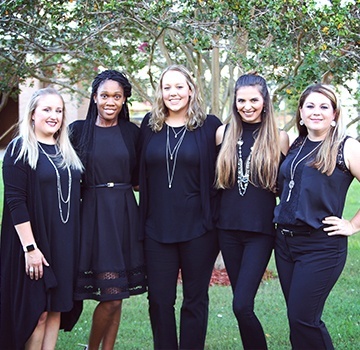 First of all, we would like to welcome you to North Jacksonville Complete Dentistry. Second, we want to remind you that Dr. Baxter and Dr. Bradberry are here for you. Our love for dentistry is not possible without the patients and we remind ourselves of that every day. We wanted to create this page to give you an idea of what to expect when you visit our practice as a new patient. We understand that a new patient appointment in a dental office can be met with hesitation and sometimes fear. We hope that some information can help alleviate those feelings!
When you arrive at the practice, you will be greeted by one of our team members. You can feel free to help yourself to a beverage at our beverage bar. We have included some forms on our website for you to fill out to help reduce the amount of time spent in the office. You may notice that at every step we have attempted to minimize your time in the chair and maximize your time enjoying the rest of your day.
Our team will help you finish any paperwork needed and answer insurance questions that you may have. You will then be given a tour of the office and meet our doctors. If you live with dental fear, we hope you realize that you are understood and that you are not alone. Dental fear is relatively prevalent and comes from a variety of sources. We would love to spend a little time discussing what we can do to ensure that your visits are as enjoyable and as comfortable as possible.
The first appointment consists of a series of photos, x-rays if needed, a cleaning, and an exam. The sequence and timing of this exam have been carefully crafted to make sure that your time is well spent. From there, Dr. Bradberry or Dr. Baxter will discuss with you at your desired level of detail the potential problems found as well as the different treatment options.
We believe that since it is your mouth, you should be instrumental in the decision process regarding your treatment. At North Jacksonville Complete Dentistry, we pride ourselves on spending as much time as necessary discussing your specific situation. There is no better way to ensure a positive outcome.
If you have any specific questions, we would be happy to help and encourage you to contact us any time.