Replace Missing Teeth – Jacksonville, FL
Reclaim Your Complete Smile
Missing teeth can cause all kinds of serious problems for a patient, making simple things like eating, speaking, and even smiling feel awkward or painful. At North Jacksonville Complete Dentistry, instead of focusing on the problem, we're all about offering our patients solutions. Whether you are missing one tooth or several, we can use custom-made restorations to beautifully rebuild your smile for a lifetime to come. We're ready to help you recover your bite and confidence at the same time, and to learn more about your options, give us a call today.
Why Choose North Jacksonville Complete Dentistry to Replace Missing Teeth?
State-of-the-art dental implant restorations available
Get a dental bridge in just one visit with CEREC
Restorations custom-designed for each patient
What If I Do Nothing?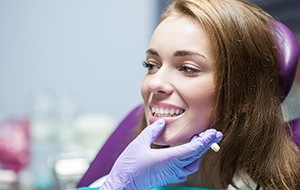 Left untreated, tooth loss only tends to lead to even more tooth loss. Eventually, the remaining teeth will start to shift into the open spaces, causing the bite to misalign, exposing the enamel to excess wear and tear. Plus, patients with missing teeth are also much more susceptible to developing gum disease, which in itself is the leading cause of adult tooth loss in the US! Thankfully, patients can stop this kind of progression and fully restore their smiles using the treatments listed below.
Dental Bridges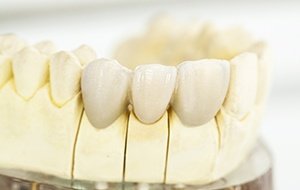 A dental bridge replaces one or more teeth that have gone missing in a row. It uses the two surrounding natural teeth as anchors for the prosthetic teeth that fit in between—creating a literal bridge over the gap left after tooth loss.
At most dental offices, you have to attend at least two appointments spaced weeks apart to get a dental bridge, but at NJCD, we're able to provide one-visit bridges thanks to CEREC. It utilizes computer-aided design/manufacturing technology, enabling us to create high-quality, custom-made bridges in just a fraction of the time. Now, you won't have to take extra time off of work or wear an unreliable temporary appliance to replace your missing teeth. You can simply come to see us and walk out with a renewed smile that same day.
Learn More About Dental Bridges
Full Dentures & Partial Dentures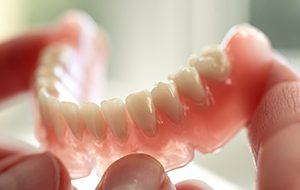 Full and partial dentures restore a patient's ability to eat, speak, and smile with confidence after tooth loss. Full dentures replace a whole row of missing teeth, while partial dentures replace several missing teeth either in a row, or from different areas of the mouth. When not retained by dental implants, both types of dentures are composed of prosthetic teeth attached to a gum colored base (see more on implant-retained dentures). Non-implant supported dentures may be held in place by clips, brackets, or denture adhesive.
Learn More About Full Dentures & Partial Dentures
Dental Implants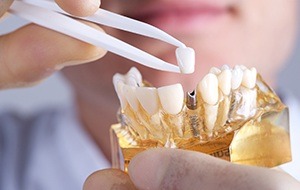 When it comes to tooth replacement, dentists around the world agree—dental implants are the best solution available today. Unlike other restorations that only replace the visible portion of a tooth, implants actually bring back both the crown and root. The end result is extremely stable, natural-looking, and the next best thing to a real tooth. Even better, NJCD is one of the few offices in the area that can complete the entire procedure in-house, helping patients rebuild their smiles in the most efficient way possible.