Meet Your Jacksonville Dentist
Dr. Tam Truong, DMD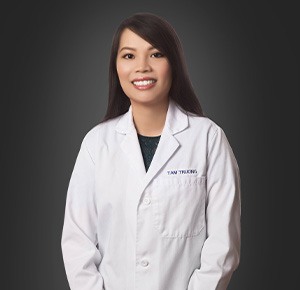 Dr. Truong is trained to provide complete and comprehensive dentistry, for both adults and children, including all restorative dentistry, oral surgery and oral medicine, endodontic-therapy including molar root canals, as well as Invisalign, prosthodontics, porcelain veneers, nitrous oxide, and fabrication of sleep apnea devices.
Dr. Truong's strong education background and upbringing has provided her a drive to become the ideal dental provider, always improving and staying up with latest cutting-edge innovations in dentistry, in her pursuit to provide comprehensive and quality patient care.
After earning a challenging bachelor degree in Biochemistry, Dr. Truong moved from California to the east coast, where she attended Temple University of Kornberg School of Dentistry. Along her career path, Dr. Truong has participated in "Give Kids a Smile" a service to providing free dental care for children, and "Quality Community Healthcare", with its mission to serve the local underserved communities.
When not at work, Dr. Truong enjoys spending time dining, traveling, and going to the beach, as well as spending time with her friends and loved ones.