Cost of Dentures - North Jacksonville, FL
Understanding and Financing Your Tooth Replacement
If you're considering dentures to replace teeth, you may not have realized that there are multiple options to consider when you visit North Jacksonville Complete Dentistry. Our office is happy to provide several solutions based on your specific needs. However, the cost of dentures in North Jacksonville can largely vary depending on a variety of factors. Below, you can learn about the general cost of each type of denture and what can influence their price tag the most! If you have additional questions or want to schedule your first in-person consultation, give our office a call!
Cost of Full (Complete) Dentures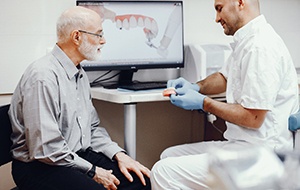 If you need to replace a whole row of teeth but do not want to undergo surgery to do so, full (or complete) dentures are likely the best option for you. Full dentures can cost as much as $1,200, but this price can vary depending on the materials used to create them. It can also change based on how customized they are for your needs. Keep in mind that full dentures can last between 5 and 7 years and enable you to eat, drink and speak far more comfortably.
Alternatively, our office can provide immediate dentures if you want to receive a restoration the same day you need to have teeth extracted to make room for a new prosthetic. These dentures are generally a fraction of the cost compared to complete dentures.
Cost of Partial Dentures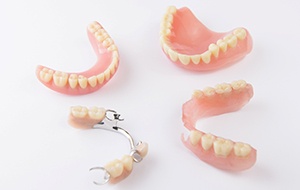 When you have multiple teeth missing on both sides of your arch, a partial denture typically makes more sense than placing multiple bridges. This type of denture essentially acts like a puzzle piece in your mouth, filling the gaps where it is needed.
Keep in mind that the variations within partial dentures can vary dramatically, which means their price tag can be as cheap as $300 and as expensive as $1,500. Basically, the more teeth you need to replace, the more complex the partial denture will need to be.
Depending on the number of missing teeth you have, dental implants could prove to be a more effective solution. Of course, you can also pair dental implants with dentures for an even more reliable fit.
Cost of Implant-Retained Dentures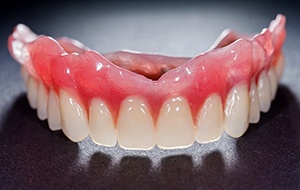 Instead of relying solely on the shape of the mouth, denture adhesive, or metal clasps to stay in place, implant-retained dentures attach to a series of dental implants that are placed in the jawbone beforehand. As a result, this can make treatment more expensive, averaging between $5,000 and $6,000. While this is significantly more than traditional dentures, the benefits are more than worth the added cost.
Not only will your denture stay in place much better than other options, but you can expect improved biting strength to eat your favorite foods, better clarity when speaking, and the most natural-looking esthetics possible. And, when you visit North Jacksonville Complete Dentistry for care, you'll have the option to choose either removable overdentures or fixed hybrid dentures!