Dental Bridges – Jacksonville, FL
Confidently Bridge the Gap in Your Smile
No one wants to be missing a tooth, but thanks to modern dentistry you always have several smile solutions. When you are missing one or a few consecutive teeth but your teeth on either side of the gap are healthy, a dental bridge definitely merits consideration. At North Jacksonville Complete Dentistry, count on our dentists to confidently bridge the gap in your smile to restore its appearance and balance, plus this new addition will prevent dental drift and reduce your risk of gum disease. Contact your dentist in Jacksonville to schedule a consultation!
Why Choose North Jacksonville Complete Dentistry For Dental Bridges?
One-Visit CEREC Bridges Available
High-Quality, Strong Restorations
Dental Insurance & Flexible Financing
What Is a Dental Bridge?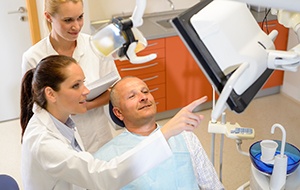 Dental bridges are designed to help patients who are missing one tooth or several teeth in a consecutive row. An alternative to partial dentures, this tried-and-true tooth-replacement solution uses dental crowns or dental implants to secure the pontics (free-standing replacement teeth) in place. Since the materials used are available in a wide range of lifelike shades, modern dental bridges fill the gap in your smile seamlessly. Plus, they are incredibly durable, ensuring your bite doesn't suffer either!
Types of Dental Bridges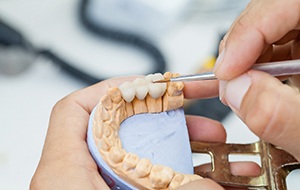 The first step to regaining your primetime grin is a consultation with our experienced dentist. They'll conduct an oral examination, ask about your goals, and review your medical history. Based on their findings, one of the following treatment options will be recommended:
Traditional Dental Bridge
A traditional dental bridge can replace a single missing tooth or several teeth in a row. This restorative treatment requires you to have a natural, stable adjacent tooth in front of and behind the space that you're wanting to fill in. Essentially, we're "bridging the gap" by making a single unit of three or more teeth. Be sure to ask about our CEREC one-visit bridges!
Implant Bridge
As the name implies, an implant bridge uses dental implants as opposed to crowns. The implants are placed on either side of the gap in your smile, and after they've fused with the jawbone, we'll be able to attach the dental bridge to the implants to replace two or more missing teeth. Considered the strongest and most stable system, an implant-supported bridge requires surgery to embed the implants into the jawbone. Your time invested in this option will pay off in the quality of the result!
The Benefits of Getting a Dental Bridge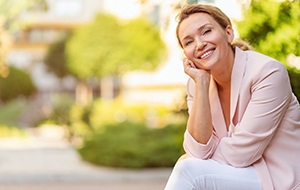 When you replace your missing teeth with a dental bridge in Jacksonville, you can expect to enjoy an array of benefits including:
Maintained alignment of your existing teeth
Improved oral health
Easy cleaning and maintenance
Jawbone preservation with implant bridges
Long-lasting results (15 years with traditional & 35+ with implant-supported)
Natural-looking smile
Dental Bridges FAQs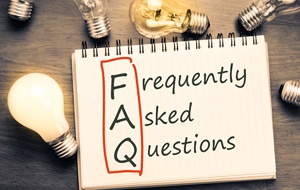 Want to know more about dental bridges in Jacksonville? Our knowledgeable team has collected some of the most common questions about this restoration and answered them below. Take a moment to review these FAQs, then give our office a call if you have further questions!
How Many Teeth Can a Dental Bridge Replace?
Depending on the patient's needs, a dental bridge can replace anywhere from one to four missing teeth in a row. However, bridges are most commonly used to replace only one or two teeth. The longer a bridge extends, the less stable it may become. This is especially true if the natural teeth supporting the bridge aren't strong and healthy. So, it may become risky to have a bridge replace three or more teeth. If you are missing multiple consecutive teeth, you may benefit more from an implant bridge. Dental implants are just as strong and secure as natural teeth, if not more so.
Is Getting a Dental Bridge Painful?
Patient comfort is always a top priority at North Jacksonville Complete Dentistry. Before preparing your teeth to support a bridge, Dr. Bradberry will numb the teeth they'll be working on. While topical anesthetic is usually all it takes, severely nervous or anxious patients may benefit from dental sedation. After your dental bridge has been placed, you can expect the underlying teeth to feel sensitive for the next few days. Taking over-the-counter pain medications should help, but call our office if the discomfort worsens. If you're getting an implant bridge, there will likely be some soreness after your dental implant placement surgery. Dr. Bradberry will provide detailed aftercare instructions to minimize pain.
Can Dental Bridges Get Cavities?
While it's impossible for a bridge itself to develop cavities, the natural teeth underneath it still can. Food debris can most easily become trapped in the space where the crowns meet the gums. Additionally, if a bridge is nearing the end of its lifespan, then the cement holding it in place may start to crack, allowing bacteria to enter and cause infection or decay. Practicing excellent oral hygiene and regularly visiting a dentist in Jacksonville is essential to keeping the area around your bridge clean and your smile healthy.
How Do I Clean Under My Dental Bridge?
Cleaning underneath your dental bridge is extremely important to prevent bacteria accumulation. If bacteria infect the gum tissue around your bridge, it could ultimately cause your restoration to fail. There are a few different ways to clean under a dental bridge, so you may need to try them all to find the one that's easiest for you.
Option A: Loop a piece of traditional floss through a threader, then slide the pointed end underneath the bridge and out the other side. Slide the floss back and forth under the restoration. Then, wrap the floss around each of the supporting teeth/implants to clean just beneath the gums there.
Option B: Slide an interdental brush in and out of the space under your bridge to remove food debris. Also called interproximal brushes or "Christmas tree brushes," these tools come with long handles and contain puffy bristles that are attached to a wire.
Option C: Use a use water flosser such as Waterpik. These powered devices release a steady stream of water, which you can aim underneath your bridge. Many people with dental bridges in Jacksonville enjoy the feeling of cleanliness that comes from using a water flosser.