Cosmetic Dentist in North Jacksonville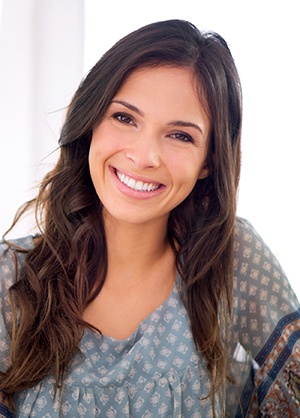 Services in cosmetic dentistry can help your smile shine at work and at play. Healthy teeth should look as great as they feel, after all, and Dr. Johnson and Dr. Baxter are here to help you achieve the confident, sparkling smile of your dreams. So whether you're interested in minor improvements or a full smile makeover, it's all part of our effort to provide truly comprehensive dentistry. Learn more about our cosmetic services below.
In-Practice Laser Whitening
Patients who are in preparation for a big event, like a wedding or reunion, appreciate the efficient results available with in-office whitening. This solution can whiten teeth eight to ten shades in just one, one-hour visit—and that means in-office whitening is something most busy adults can easily fit into their schedules. In-practice laser whitening works by combining a peroxide solution with a powerful, super-concentrated laser light. This in-office whitening process is far faster than other whitening methods, and it can also brighten stains that have not responded to other attempts at whitening, like those left by medications or tobacco. You can help maintain your white results after treatment by avoiding highly pigmented foods and drinks, like coffee, red wine, and dark chocolate.
At-Home Tooth Whitening
Many patients prefer to whiten their teeth on their own schedule, and from the comfort of their own home. These adults prefer at-home tooth whitening, a system that you apply each night or in the morning. To begin, your cosmetic dentist will set you up with a custom-fit tray that will hold the bleaching solution right next to your tooth enamel. Use the system as directed and you'll begin to notice results immediately, with full whitening revealed after two weeks.
And a small note on whitening—while there are a number of whitening options available at your local pharmacy, please don't forget that when it comes to your teeth, you should always trust the professionals. Dr. Johnson or Dr. Baxter will provide you with a solution that's best for you and your unique smile—because there's no such thing as one-size-fits-all in dentistry.
Tooth-Colored Fillings
For decades, the most popular method for restoring a tooth from a cavity was filling it with silver, or amalgam. Unfortunately, this material is highly noticeable against natural tooth enamel, and it also requires significant removal of the natural tooth structure. Modern dentistry prefers tooth-colored fillings, which use a composite resin to fill the hole left by a cavity. Tooth-colored fillings require less removal of the tooth, blend beautifully with the rest of the smile, and do not expand and contract in response to heat and cold. North Jacksonville Complete Dentistry also performs silver filling replacement.
Porcelain Veneers
It doesn't matter whether you've got chips, cracks, stains, slight gaps, or all of the above—when multiple dental imperfections affect the appearance of your smile, porcelain veneers can come to the rescue. These coverings are made of multiple ultra-thin sheaths of porcelain and bonded directly onto the front surface of the teeth, they instantly improve the size, shape, coloring, and alignment of the teeth that show when you smile. Porcelain is a material that looks and feels just like natural tooth enamel, and it's also highly stain-resistant, so your smile will stay the same shade of white for years after their application.
All-Ceramic Restorations
All-ceramic restorations take the form and function of your teeth into consideration—meaning they improve the way your teeth look at the same time as they help them work like they should again. If you've got a tooth that's been worn down due to years of use, or if one of your front teeth is broken after an accident, you don't want to cover it with a noticeable gold crown. With all-ceramic restorations, you can enjoy a stronger tooth that functions like it should—without marring the overall appearance of your smile. Strong, sturdy, and completely natural-looking, ceramic is a wonderful choice for cosmetic considerations in restorative care.
Invisalign® Clear Braces
It's not uncommon for people to experience tooth misalignment in adulthood—but too many adults forgo orthodontic treatment. Why? They don't want to spend two years wearing metal braces. Invisalign® provides an alternate solution. This clear braces system helps adults and older teens improve the appearance of their teeth, without letting everyone else know they're undergoing orthodontic treatment, too. With custom-fit, removable trays, teeth are gradually shifted into the preferred position using Invisalign®.
Please contact North Jacksonville Complete Dentistry if you'd like to discuss Invisalign®, clear braces for adults and teens, or any of our other cosmetic services. We invite patients from the North Jacksonville area including Bryceville, Callahan, and Nassau Village, to schedule an appointment today.