Dental Team - Jacksonville, FL
Meet Our Dental Team
Daniel, Office Manager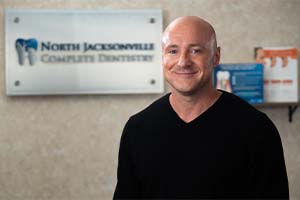 Daniel has been an integral part of the North Jacksonville Complete Dentistry team for over eight years. He studied at both George Washington University and USMC. Today, as our main treatment coordinator, he loves meeting so many unique patients and forming friendships with them over time. Learning about their lives, their families, and their careers is an absolute joy. A Monticello, NY native, his family consists of his wife, one daughter, one stepdaughter, and one stepson. In fact, he met his wife during a patient consultation – his sales job was so good that she asked him out! In his free time, he enjoys keeping up with physical fitness, looking for shark teeth on the beach, and belittling others about their food choices.
Cassie, Director of Happiness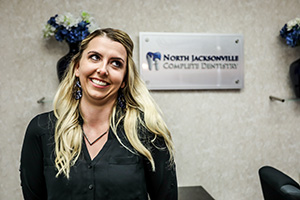 Cassie first joined our dental team almost a full decade ago, and she never gets tired of working with patients and developing wonderful relationships with them – everyone feels just like family! She attended Florida State College of Jacksonville for her education and is a certified EDDA. A Hilliard native, she describes her family simply as "beautiful chaos." In her spare time, you can usually find her hanging out with loved ones, fishing, and traveling. She talks VERY fast when she gets excited about something.
Chelsea, Front Desk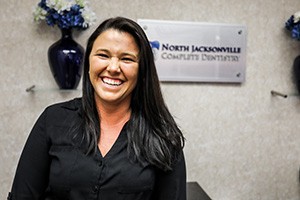 Chelsea is originally from the Callahan area, and her career in the oral healthcare field covers over five years. She studied at Florida State College of Jacksonville and EDR Certified. Today, she loves working alongside such awesome people every day! At home, her family is always putting the word "fun" in "dysfunctional." In her spare time, she enjoys spending quality time with her husband and children, traveling, swimming, and shopping. She is very good at keeping calm under pressure – maybe TOO calm sometimes.
Leigh, Dental Hygienist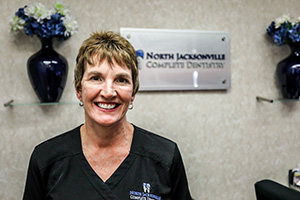 Leigh's career in the dental field spans over 35 years so far, and she loves getting to know each patient so well over the course of their dental treatments. She studied at Florida State College in Jacksonville and is certified in the administration of local anesthesia. Originally from West Palm Beach, she has been married for over three decades with four children and two grandchildren. When she isn't busy at the office, her favorite hobbies are practicing CrossFit, traveling, and (of course) spending quality time with her loved ones.
Karen, Dental Hygienist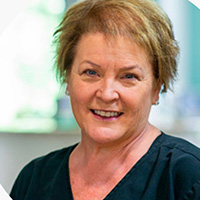 A Jacksonville native, Karen's career in the dental field covers well over 30 years and counting. She attended Memphis State University before enrolling in the dental hygiene program at Florida State College at Jacksonville. Today, she always goes the extra mile to help our valued patients attain their dental goals. At home, Karen is happily married with three children. IN her free time, she enjoys watching her kids play softball and baseball, cheering on the Gators, scrapbooking, and doing crafts like rubber stamping.
Susan, Dental Hygienist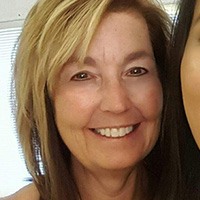 Susan attended Eastern Florida State College for her education and has been a crucial member of the North Jacksonville Complete Dentistry family for over 25 years so far. She loves caring for each patient and getting to know them on a personal level throughout their appointments. Originally from the Cocoa area, she is married with one son and one daughter. Outside of working hours, she enjoys planning parties and feeding the critters that come to her kitchen door every evening.
Rose, Dental Hygienist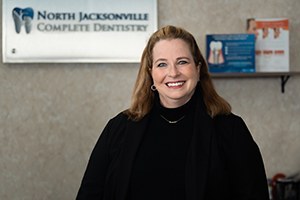 Rose is originally from Winfield, AL and attended school at Florida State College at Jacksonville and the University of North Florida. She is also certified as a Permanent Makeup Artist! Today, her career in the dental field covers over 25 years. Her favorite part of working at our office is an easy answer – seeing all the beautiful smiles on a daily basis. Outside of work, she has three wonderful children and five grandchildren. Her favorite hobbies include gardening, singing, reading, and hunting for shark teeth.
Michelle, Dental Assistant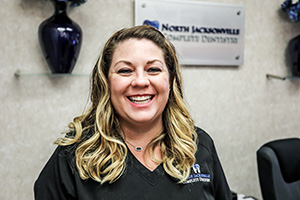 Michelle studied dentistry while in the Air Force, and today, her experience in the field spans nearly two full decades. As part of our team, she loves helping patients smile with newfound confidence. She was a Navy brat while growing up and is now the proud mom of the three boys (with two bonus kids). Her favorite hobbies include camping, driving jeeps, going to concerts, dining out and traveling. If she doesn't tell you with words how she's feeling, just take a look at her facial expressions – that will make it clear!
Amanda, Dental Assistant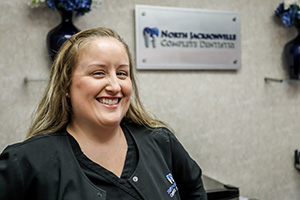 Amanda has been a member of the North Jacksonville Complete Dentistry team for over 10 years. She attended the FCCU Dental Assisting Program, graduating in 2006. Today, what she loves most about her job is getting to know patients over time and learning so many new things! Originally from Hilliard, she is a proud dog mom and loves crafting and crocheting in her free time. She's actually ambidextrous and always willing to show it off.
Erica, Dental Assistant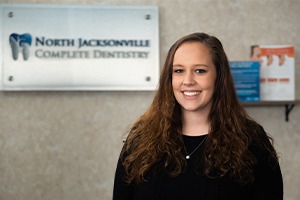 Erica is originally from Southeast Georgia, and she's been working in the dental field for over five years. She received her certification as an EFDA from Everest University, graduating with honors as a Student Ambassador. Today, her favorite part of this job is seeing the positive impact she can have on our patients' lives! At home, she and her husband have a daughter. As a family, they love centering everything they do around cheering her on in whatever sport happens to be in a season. Other personal passions include music, food, God, and Football – GO DAWGS! She doesn't want to waste any of her life not smiling, laughing, and having fun, which is why she's a very happy person.
Brittany, Sterilizer Technician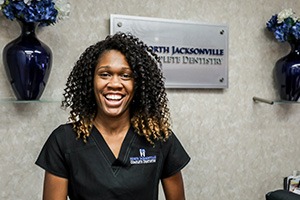 Brittany hails from right here in Jacksonville and completed her dental education at the United Education Institute. She is also a certified EDDA. Here at the office, she goes above and beyond to make sure everyone has access to fully clean instruments. She feels very proud to be part of such a hardworking dental practice and getting to witness patients have high-quality care experiences here! At home, Brittany and her husband have two children. In her spare time, she enjoys reading, doing arts and crafts, exploring Florida, hanging out with her loved ones, and watching football.