Jacksonville Preventive Dentistry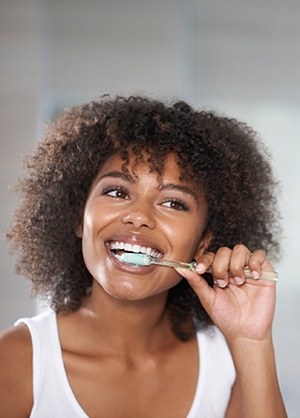 Want a beautiful smile that lasts a lifetime? It's not so difficult to keep tooth decay and gum disease at bay. If addressed early, a healthy smile requires regular preventive care, with excellent brushing and flossing at home and a checkup and cleaning usually every six months. At your routine visit to North Jacksonville Complete Dentistry, we'll take x-rays and examine your oral structures to make sure your smile is as healthy as can be.
Checkups and Cleanings
We recommend patients of all ages receive a dental checkup and cleaning at least every six months. It's a small investment that offers a big return: a clean, beautiful smile that's at a reduced risk of cavities, gum disease, and other dental issues.
During the hygiene portion of your appointment, one of our experienced dental hygienists will thoroughly remove plaque and tartar from the surface of your teeth and around your gum line. Then, your dentist will perform a complete exam to make sure cavities and gum disease haven't developed since your last visit. Dr. Johnson or Dr. Baxter will also make sure all existing dental work—like crowns, bridges, and fillings—are holding in just like they should. Patients leave their six month visit to North Jacksonville Complete Dentistry with that clean-mouth feeling we all love...and the peace of mind that their teeth and gums are happy and healthy.
Periodontal Treatment
We may find evidence of gum (periodontal) disease during your six month checkup and cleaning. If we do, don't worry—about half of the American population have the signs and symptoms of gum disease, but the condition is easy to treat non-surgically when caught in its earliest stages. At the very beginning, gum disease can be reversed with improved dental hygiene, like better brushing and flossing at home on a regular basis. If additional care is needed, nonsurgical scaling and root planing (also known as a "deep cleaning") uses special tools to remove plaque and bacteria above and below the gum line, cleaning the tooth's root from the substances that cause the infection. Scaling and root planing is often completed over several visits to the dentist.
CEREC® One-Visit Dentistry
Teeth that have sustained serious damage or severe decay may need more than a filling. Often, only a dental crown can fully restore the tooth's form and function. The procedure for dental crowns traditionally requires two or more visits to the dentist's office, with a few weeks' waiting in between each one. But now, our patients who need a dental crown benefit from the increased convenience and improved results with CEREC® one-visit dentistry. The method uses CAD/CAM technology, which allows your dentist to plan for, create, and place your dental crown in just one appointment. In addition to almost instant results, CEREC® uses digital impressions for an improved treatment plan—giving you a dental restoration that looks, fits, and feels just like your natural tooth.
Children's Dentistry
Young teeth need special attention, and many children require a calmer, slower approach in dental care. We know our young patients are still figuring out what they think about the dentist—and positive experiences lead to a lifetime of healthy dental habits. That's why our staff takes extra time with children's appointments. We'll talk to them about their dental hygiene, carefully examine their teeth, and provide any advice or restorative care as needed. We can also provide extra defense against cavities with dental sealants and fluoride treatments, for shielding and strengthening the tooth enamel against the plaque and bacteria that cause decay.
Digital X-Rays
X-rays are an important part of preventive care, as they allow your dentist to catch problems that may be lurking beneath the surface. And these days, there's a better alternative to traditional x-rays. Using digital radiography, we can get a more accurate image of your teeth and oral structures without exposing you to unnecessary radiation. Even better, these images are ready almost instantly, and transferred to a computer screen so we can show you just what's going on inside your mouth. Digital x-rays are a safer, faster, and more effective method of radiography—and because the images are digital, it's more environmentally friendly, too.
Sleep Apnea Treatment
If chronic snoring and frequent waking throughout the night is affecting the way you feel during the day, you could be suffering from the condition known as obstructive sleep apnea. Sufferers of this common disorder may have their sleep interrupted hundreds of times in one night—a noisy, disruptive occurrence that affects their sleep and the sleep of their partner. We are happy to help patients resume their eight hours of sleep with sleep apnea treatment. Using a continuous positive airway pressure machine (CPAP) or a removable oral device can alleviate your symptoms and help you find relief to breathe easy once again.
Dental Sealants
Because they're more difficult to clean properly, the nooks and crannies (also known as pits and fissures) that exist on the surface of the back teeth are a prime location for cavities. But we have an excellent defense in dental sealants, clear coverings painted directly onto the chewing surface of these teeth to "seal" out decay. It's a quick, painless treatment that can provide years of protection against cavities. While everyone can benefit from cavity prevention, dental sealants are especially good for children, whose teeth are more vulnerable to decay.
Oral Cancer Screenings
An annual oral cancer screening can be performed alongside your regular checkup and cleaning. Your dentist will examine the inside of your mouth and all oral structures visually and tactilely. Signs of oral cancer include red, white, or swollen bumps, rough patches, discoloration in the mouth, asymmetry of the face, and other irregularities. Patients who use tobacco, have a family history of cancer, or who have frequent exposure to UV light are at a higher risk of developing oral cancer.
Athletic Sportsguards
Athletes of all ages should protect their teeth with a custom-fit sportsguard. This small device plays a big role in preventing dental fractures, chips, missing teeth, and injuries to the tongue, cheeks, and lips, too. What's more, research shows using a custom-fit mouthguard instead of a one-size-fits-all option reduces the risk of concussion.
Schedule your appointment for preventive dental care at North Jacksonville Complete Dentistry today! Dr. Ryan Johnson and Dr. William Baxter welcome patients from the North Jacksonville area, including Bryceville, Callahan, and Nassau Village - Ratliff, FL.