Dental Anxiety and Sedation Dentistry – Jacksonville, FL
Scared of the Dentist? We're Here to Help
If you have absolutely no desire to ever see Dr. Bradberry, that's okay. You should tell him—he wouldn't take it personally. He never does. Dr. Bradberry has plenty of patients who used to avoid him and now they are some of his biggest fans. Why? Because Dr. Bradberry understands that if you're afraid of all things dental the fear is real. He and his staff want to help you overcome your dental fear and anxiety so you can have the smile you deserve. If you've neglected your oral health for too many years because of anxiety, then speak to Dr. Bradberry. We help many patients just like you.
Why Choose North Jacksonville Complete Dentistry for Sedation Dentistry?
Experienced & compassionate team
Clear, straightforward treatment instructions provided
Oral sedation available upon request
Reasons for Dental Anxiety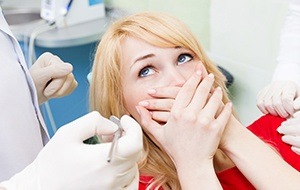 Everyone seems to have something they're afraid of—the dark, clowns, heights and enclosed spaces to name only a few. Fear of the dentist is often rooted in a memory. Some people remember a childhood visit to the dentist that was far from fun or a more recent experience that was unpleasant. Others are uncomfortable being in a medical facility. Regardless of why you're nervous, Dr. Bradberry can help you relax so he can provide the dental treatment you need, whether that is a basic dental cleaning and exam or a more lengthy and involved procedure.
Comfort and Care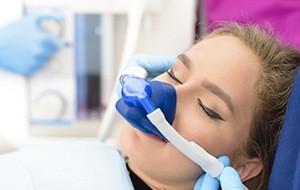 Sometimes patients just need a bit of reassurance and a straightforward explanation about what will happen during their appointment. We take the time to explain everything in detail, so we can help guide patients through the process. In fact, no treatment is needed for the first visit. You will meet our team, meet Dr. Bradberry, and discuss your desires. Only if you are comfortable proceeding will we develop a plan that is specific to help you.
Oral Sedation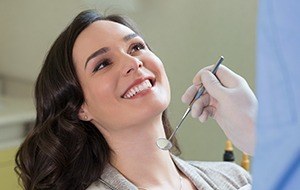 For many patients, a mild oral sedative can be very helpful. Dr. Bradberry will prescribe the medication for you to take at a designated time before your appointment. The sedative will begin to take effect after a short time and you'll feel calm and maybe a little drowsy. Because you've taken a sedative, you will not be allowed to drive. Be sure to arrange for a family member or friend to bring you, stay in the office during your appointment and drive you back home. While you are mildly sedated, Dr. Bradberry is able to complete your dental care. Some patients don't remember anything after their visit, so they think they've been asleep. You do, however, remain awake so you can respond to Dr. Bradberry's questions.
Schedule your appointment at North Jacksonville Complete Dentistry to discuss oral sedation today. We welcome all patients from the North Jacksonville area including Bryceville, Callahan, and Nassau Village.
Sedation Dentistry FAQs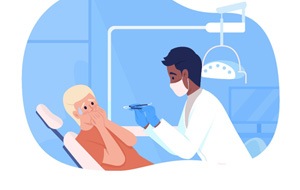 Do you feel anxious or fearful at the idea of going to the dentist? If the answer is "yes" then sedation dentistry could be the solution you've been looking for. However, it is important to be well-informed, so we're here to help. Here are the answers to some of the most common questions we receive about sedation dentistry in Jacksonville. If you don't see the information that you're looking for below, don't worry. Give us a call and we'd be happy to address your questions and/or concerns.
Does dental sedation put you to sleep?
Sedation dentistry is sometimes called "sleep dentistry," but this name is misleading. Sedation dentistry doesn't actually make you sleep. However, you will be in a relaxed state, so some of your memories of the experience may be fuzzy. It may feel like you were asleep even though you remain conscious the entire treatment. This way, you can respond to questions and verbal instructions.
Does dental sedation make you tell secrets?
Contrary to popular belief, dental sedation is not a "truth serum" like it's portrayed in movies and TV shows. It is very unlikely that you will reveal any secrets while you are sedated. Even if you do happen to say something that you normally wouldn't while you are under sedation, you can rest assured that it will be kept within the walls of the dental treatment room.
Can dental sedation make you sick?
With oral conscious sedation, there is a slight risk of nausea. To be safe, your dentist will probably recommend that you don't eat for a few hours before your procedure. If you have trouble skipping meals, it may be a good idea for you to schedule your appointment for first thing in the morning. If you are prone to nausea, don't hesitate to let us know.
Will I feel any pain with dental sedation?
Depending on the procedure that you are undergoing, your dentist may numb your mouth with a local anesthetic before getting started. This should keep you from experiencing any pain. Sedation dentistry also helps by keeping you awake while suppressing your body's ability to feel any pain. If anything, you could feel some pressure, but not pain. If there is something that is making you feel uncomfortable during your procedure, don't hesitate to let us know so we can help.
Is sedation dentistry worth it?
If you have severe dental anxiety or need extensive work done, sedation dentistry can make getting treatment much easier. Putting off the care you need can result in expensive and invasive dental treatments later on, so for many patients, investing in sedation can help with saving money in the long run.