Dentures – Jacksonville, FL
Keep Smiles in Place for a Lifetime
At North Jacksonville Complete Dentistry, one of our main goals it to keep teeth healthy and in the mouth for a lifetime. Unfortunately, many of our patients have already lost teeth or present with teeth that are not salvageable. In many of these situations, dentures are the best option for treatment.
In this section, we will attempt to provide some education regarding the varieties of dentures. Before we do, there is one important point to make. Many patients that visit us are extremely self-concsious about their smile. Others have avoided the dentist for years due to self-conscious thoughts or embarrassment. If you or a loved one are in this situation, we want you to know that you are not alone and that we understand these feelings. What has happened in the past is in the past and your future can be healthy when we are given a chance to change it!
Why Choose North Jacksonville Complete Dentistry for Full Dentures & Partial Dentures?
Two highly experienced & dedicated dentists on staff
Full customization for full and partial dentures – no "one size fits all"
Implant-retained dentures available for added permanence and stability
Complete Dentures
A complete denture is likely what you think of when someone mentions dentures. These are indicated when all of the teeth in the upper or lower jaw have been lost or cannot be saved. Complete dentures can help bring a smile back to life and can be virtually indistinguishable from natural healthy teeth. Additionally, when teeth are lost the cheeks and sides of the face begin to sag inward. This gives the appearance that the person is older than they really are. Dentures help fill in these areas and help bring back an appearance of youth.
Immediate Dentures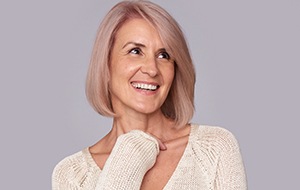 Many people are hesitant about getting dentures because they fear having no teeth for a period of time. Complete dentures often require hopeless teeth to be removed and a period of healing before dentures can be fabricated. Immediate dentures can solve this problem. In certain circumstances, teeth can be extracted and dentures delivered the same day. Feel free to contact us to make an appointment to see if immediate dentures can work for you.
Overdentures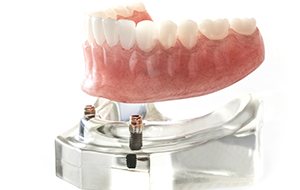 Many people do not have optimal bone support to keep dentures in place properly. Others simply want the most retentive denture that they can get. In these situations, implants can be utilized to help secure dentures in place. Overdentures have special attachments on the underside to snap onto dental implants. The result is a denture that is much less likely to slip, slide, or pop out during speech.
Hybrid Dentures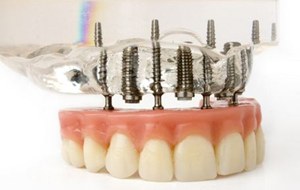 A hybrid can be the most retentive and secure denture that can be made. Hybrid dentures utilize several dental implants but unlike the overdentures, the hybrid is fixed in place. These dentures are essentially screwed into dental implants. They are removed periodically by the dentist for cleaning. Many people like the hybrid denture for several reasons. First, they do not have to be removed nightly like traditional dentures. Hybrids also receive their support, stability, and retention directly from the implants themselves. This keeps them secure in place and also allows for much more effective and powerful chewing strokes.
Partial Dentures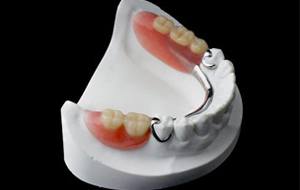 Partial dentures are indicated when there are enough healthy teeth in the mouth to help hold them in place. A partial denture can restore much needed chewing function when teeth have been lost. A partial denture is held in place in part by clasps that are custom made to fit around existing teeth. Similar to complete dentures, partial dentures can also restore the proper facial shape that has been lost when teeth are lost.
If you or a loved one are in need of any type of dentures, feel free to contact us at any time to make an appointment for an evaluation.