Restorative Dentistry in North Jacksonville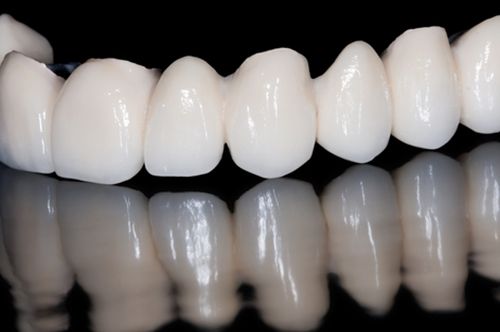 Restorative dentistry gets your dental health back on track after decay or damage take hold. At North Jacksonville Complete Dentistry, we're equipped with the knowledge and equipment to handle our restorative services under one roof—with no need for referrals. We don't want you running all over town to keep your oral health in shape. Patients in the North Jacksonville area, including Bryceville, Callahan, and Nassau Village, benefit from the following restorative services from Dr. Johnson and Dr. Baxter.
Crowns and Bridges
A dental crown can perform two functions: restoring a severely decayed or damaged tooth, or replacing a single missing tooth with the support of a dental implant. When the natural tooth is present, the crown fits securely around the tooth, fully restoring its form and function.
A dental bridge replaces one or more teeth that have gone missing in a row. It uses the two surrounding natural teeth as anchors for the prosthetic teeth that fit in between—creating a literal bridge over the gap left after tooth loss.
Most dental offices must complete crowns and bridges in two separate appointments with several weeks in between, but with our CEREC® technology, we're able to perform one-visit crowns and bridges. That means no unnecessary sick time off work, and no need for an uncomfortable, unstable temporary device while you're waiting for your permanent one to be created. With the improved treatment planning possible thanks to digital impressions, CEREC® technology provides an ultimately better-fitting crown or bridge, too.
Soft Tissue Laser
North Jacksonville Complete Dentistry is committed to using state-of-the-art technology to provide the best in today's dental care. The soft tissue laser is a wonderful example. It's a modern alternative to traditional procedures that involve a scalpel and sutures. With the concentrated, super-precise power of the soft tissue laser, we perform procedures more comfortably and effectively than ever before—and a minimally-invasive procedure means you enjoy a quicker recovery time, too. Your dentist may use the soft tissue laser to perform a biopsy, gum disease therapy, gum contouring, anterior smile makeovers, and more.
The benefits of the soft tissue laser compared to traditional surgery include the following:
Minimal discomfort and bleeding during and after the procedure
No need for stitches or scalpels
Speedier recovery
Increased precision for improved results
Root Canal Therapy
Root canal therapy—or just a "root canal"—is the last option in saving a tooth before extraction is necessary. Although it's believed to be very painful, modern root canals are actually nothing to fear. In fact, they're usually the only way to get out of pain and back to your regular life.
To perform a root canal, Dr. Johnson or Dr. Baxter will access the inside of your tooth and completely remove all infected matter (the interior pulp and nerve of the tooth). Then the tooth will be filled with a biocompatible material, and a filling will seal it off from future decay. If necessary, a dental crown is placed over the tooth to restore its form and strength. Root canal therapy is often completed in two visits to the dentist.
Dentures and Partials
Full and partial dentures restore a patient's ability to eat, speak, and smile with confidence after tooth loss. Full dentures replace a whole row of missing teeth, while partial dentures replace several missing teeth either in a row, or from different areas of the mouth. When not retained by dental implants, both types of dentures are composed of prosthetic teeth attached to a gum colored base (see more on implant-retained dentures). Non-implant supported dentures may be held in place by clips, brackets, or denture adhesive.