Smile Makeovers – Jacksonville, FL
Get a New and Improved Set of Pearly Whites
If you only have one little flaw that's holding you back, like minor tooth stains, then achieving your dream smile might only take one cosmetic dentistry treatment. But what if the shape, size, and color of your teeth are keeping you from feeling fully confident? In that case, our dentists at North Jacksonville Complete Dentistry can help with a smile makeover in Jacksonville, FL! By blending several cosmetic and restorative dentistry services, we can give you a new and improved set of pearly whites you'll feel proud of. Get started today by reaching out to our team and scheduling your appointment!
Why Choose North Jacksonville Complete Dentistry for Smile Makeovers?
Preview Your Results with Digital Smile Design
Compassionate Dentists with Several Decades of Combined Experience
Low-Interest Dental Financing Available
How Does a Smile Makeover Work?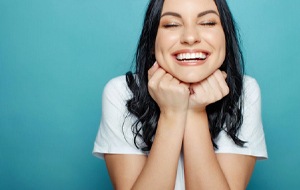 The term "smile makeover" actually encompasses several possible treatments, so the details are different for almost every patient. That's why we can't stress enough the importance of attending a consultation with your cosmetic dentist in Jacksonville. Once you sit down with Dr. Baxter or Dr. Bradberry, you'll be able to tell them exactly how you'd like to transform your teeth. Then, we'll conduct a detailed exam of your mouth and evaluate your overall face and skin tone. From there, we can recommend the specific treatments needed to bring your dream smile to life!
Depending on the flaws you wish to correct, some of the services involved in your smile makeover might include:
Veneers
All-ceramic dental crowns
Teeth whitening
Invisalign clear braces
Tooth-colored fillings
Dentures
Dental bridges
No matter which treatments you're completing, our virtual smile design technology lets you see your results before we even get started. We can simply take a current photo of your smile and digitally alter it to reflect how it would look after a particular treatment. That way, you can be excited for what's to come!
The Benefits of Getting a Smile Makeover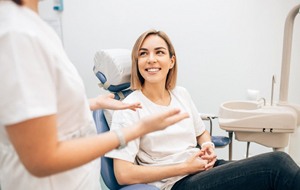 Smile makeovers give you a major confidence boost, but that's far from their only benefit. They can also:
Lead to better oral health – When you're proud of your smile, you naturally want to keep it that way. So, you'll be more likely to brush, floss, attend dental checkups, and take better care of your mouth.
Improve biting and chewing – Eating can be difficult when you have multiple broken or missing teeth. A smile makeover restores the function of your pearly whites in addition to their appearance.
Make you look younger – White teeth are often associated with youth, so you could potentially take years off your appearance.
Lessen pain in the future – If you're getting Invisalign to fix a misaligned bite, you could reduce the risk of TMJ disorder down the road by relieving stress on your jaw joints.
Understanding the Cost of a Smile Makeover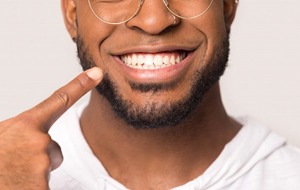 Cost is far from the first factor to consider when planning your smile makeover, but we understand that it is important. That being said, each smile makeover is completely personalized, so there is no universal price. You will have to request a consultation to learn how much your treatment will cost. Don't worry, though — our team will walk you through the details beforehand so there aren't any unpleasant surprises. We'll also review your financing options, such as dental insurance (we're in-network with many popular providers) and CareCredit payment plans. That way, your smile makeover doesn't have to break the bank!
Factors That Can Affect Smile Makeover Cost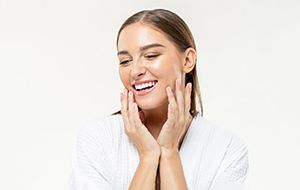 Some factors that can affect the cost of a smile makeover in Jacksonville include:
Which treatments you undergo. Some cosmetic services, such as teeth whitening, are relatively inexpensive. Others, like veneers, may cost thousands of dollars.
Your oral health. Some individuals need restorative treatment before they are eligible for cosmetic services.
The extent of your treatments. Getting one veneer costs less than a full set that covers your entire smile. Similarly, addressing minor misalignment with Invisalign tends to be cheaper than correcting extensive orthodontic issues.
Generally speaking, a smile makeover can cost anywhere from $3,500 to $15,000.
Is It Cheaper to Do Individual Treatments?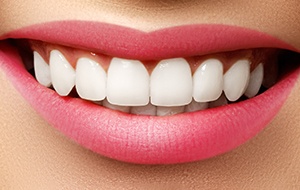 You can choose to invest in individual cosmetic treatments, scheduling them for when your budget allows. However, while this might seem cheaper in the here and now, it can actually cost you more in the long run.
For example, you may choose to get your teeth whitened now. In a year or so, you might want veneers. Your teeth may have changed color since your original whitening treatment, so you may need to get them bleached a second time so your entire smile has the uniform, bright appearance that you want.
Investing in a smile makeover can allow your cosmetic dentist in Jacksonville to plan your treatments in the most efficient, cost-effective way possible.
Does Dental Insurance Cover Smile Makeovers?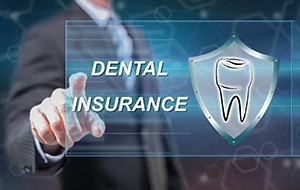 Dental insurance does not usually cover treatments that have the sole purpose of enhancing the appearance of teeth. However, if a procedure will benefit both your oral health and the way your teeth look, it is more likely to be covered. This is often the case with metal-free restorations. Invisalign might also be covered in some instances if a policy has a provision for orthodontia. Our team is happy to help patients navigate their insurance benefits.
Other Options for Making Smile Makeovers Affordable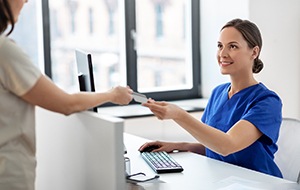 In addition to assisting you with insurance, our team can help you apply for low-interest financing through CareCredit. The application process takes just a few minutes, and most patients are eligible for credit. Upon approval, you may be able to choose from between several different monthly payment amounts, according to what works best for your budget.
Would you like to learn more about the cost of smile makeovers? Our team is ready to answer your questions and get you on the path to your ideal look!
Smile Makeover FAQs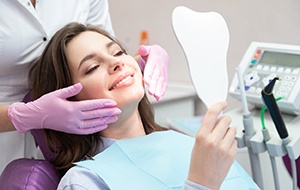 Do Smile Makeovers Have an Age Limit?
Unless you're a toddler, smile makeovers don't have a minimum (or maximum) age limit. Patients of any age can undergo the treatment.
You see, qualifying for a smile makeover has more to do with your oral health. How young (or old) you are isn't much of a factor. So, you'll be a fine candidate if you're free of tooth decay, gum disease, etc. Even if you aren't, a dentist could easily treat those issues beforehand.
All that said, teeth whitening is a minor exception. A patient should be 14 or older before getting this service. Young teens and pre-teens haven't lost all their baby teeth, so whitening could harm their smiles.
Does a Smile Makeover Hurt?
Smile makeovers involve several procedures, so you may wonder if they're painful. Well, you can rest assured: Dentists work to make them smooth and comfy. The makeover process shouldn't hurt your teeth, gums, or other mouth tissues.
For starters, most cosmetic dental work is non-invasive. It often doesn't try to alter your tooth structure or remove enamel. Key examples are teeth whitening and dental bonding, which apply gel or resin to your teeth. These services don't even require a local anesthetic.
As for invasive cosmetic work, dentists take precautions. They'll numb your mouth before a veneer or crown treatment. That way, you won't feel any pain from their efforts. (Many dentists also offer sedation that helps with discomfort.)
How Long Does a Smile Makeover Take?
Generally, a smile makeover's duration varies. How long it takes will depend on the number and type of procedures included.
For instance, some makeovers only need a single visit. That timeline is likely when the procedures done are in-office teeth whitening, dental bonding, or gum recontouring. After all, the shortest of these options can wrap up in just one hour.
In contrast, some makeovers take multiple weeks or months. These tend to be treatments that include veneer and crown procedures. For the latter services, a patient must attend several visits to ensure good results.
How Can a Smile Makeover Change Your Life?
Yes, changing a smile's look may seem frivolous. Even so, the process can greatly improve your quality of life. It often leads to perks like:
Better Oral Hygiene – If your smile seems clean and healthy, you'll probably take better care of it. That means you'll stick to daily brushing, flossing, and regular dental checkups.
Fewer Bad Habits – When you have a pretty smile, you might be inspired to quit bad oral habits. These may include smoking, nail-biting, etc.
A Positive Mood – A beautiful smile is one you'll show off a lot. In doing so, your body will produce endorphins that reduce your stress levels.