Dental Implants – Jacksonville, FL
Permanently Rebuild Your Smile
It doesn't matter how you came to have missing teeth—the important thing is that you have them replaced. Tooth loss results in jaw bone degeneration, failing oral health, and even more missing teeth later on. The earlier you seek an effective solution, the better your chances of avoiding these side effects of tooth loss. Did you know the best replacements for one or more missing teeth are dental implants? Nothing else replaces the tooth's root as well as the crown that sits on top. Dr. Bradberry and Dr. Baxter perform the entire procedure for dental implants—from initial implantation to final restoration—under one roof at North Jacksonville Complete Dentistry.
Why Choose North Jacksonville Complete Dentistry for Dental Implants?
All-inclusive implant care: placement & restoration under one roof
Restorations custom-made for each patient
Able to last 30 years or more
Benefits of Dental Implants
With more than half a million dental implants being placed each year, this solution is rapidly becoming the preferred tooth replacement for patients and dentists alike. By recreating the hidden roots of missing teeth in addition to the visible crowns, dental implants provide a vast array of unique benefits that you simply can't get with traditional dental bridges or dentures. As you'll discover below, dental implants have the ability to improve your self-confidence, your health, and your overall quality of life.
Day-to-Day Benefits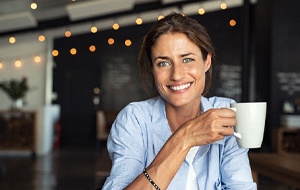 Instead of sitting on top of the gums, implants are firmly rooted in the jawbone. This means that you won't need to worry about your teeth slipping out of place.
You'll be able to enjoy nearly all of the chewing power that you had with your original pearly whites, so you won't have to restrict your diet as denture wearers often do.
The crowns, bridges, or dentures that we place on top of your implants are custom-made to fit right in with your smile, ensuring they blend in seamlessly.
When it comes to daily hygiene, caring for dental implants is quite similar to caring for natural teeth. You don't need to worry about taking out your prosthetic teeth and scrubbing or soaking them; instead, you can brush and floss your implant restorations as if they were the teeth you'd been born with.
Health Benefits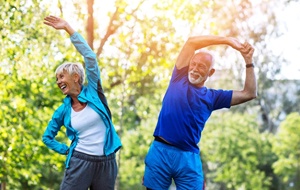 Loose, poorly fitting dentures may slide around in the mouth, causing gum sores and irritation. Since dental implants remain in place at all times, they won't agitate your gum tissue.
To provide enough support for a dental bridge, we'd need to remove some enamel from two of your remaining teeth. This can leave those teeth weaker and more susceptible to sensitivity, breakage, and decay. Luckily, dental implants are self-reliant and don't require us to modify any of your healthy tooth structure.
Because implants are so easy to maintain, they naturally reduce the risk of gum disease and other common oral health problems.
Dentures make it difficult to chew many nutritious foods, such as raw fruits and vegetables. With the chewing strength that implants provide, it should be a snap to get plenty of healthy foods into your diet.
After a tooth has gone missing, the jawbone in the area starts to shrink and change shape, which can make the remaining teeth less stable over time. Implants are the only treatment that can stop and even reverse this process.
Long-Term Benefits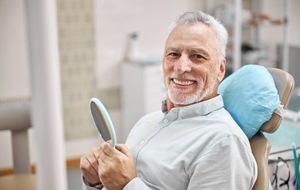 Jawbone deterioration as a result of tooth loss can make your face appear sunken-in, wrinkled, and overall, much older than you really are. By preventing this from occurring, dental implants help you keep your youthful glow for many years to come.
With consistent oral hygiene and routine dental checkups, an implant can easily be expected to last for 30 years or more.
Although implants have a higher up-front price tag than dentures and bridges, they won't need to be replaced as often. Therefore, they can actually save you much more money in the long run.
Indications for Dental Implants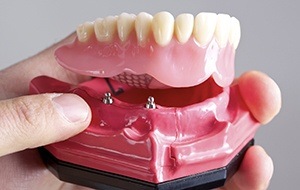 If you are missing one tooth or multiple teeth, implants could be a perfect way to replace them. The only way to truly know if you are a candidate is to come in for a brief exam. At North Jacksonville Complete Dentistry, we offer a free dental implant consultation. At this appointment, we will generally take an X-ray, evaluate your jawbone, and take a medical history. If an implant is in your best interest, we can discuss one of the following restorative options:
Missing One or More Teeth
After your dental implants have been surgically placed beneath the gum line, we wait a period of four months for the bone and titanium implant fuse together. The result is an extremely strong foundation. Once the recovery is complete, your implants are ready for the final phase: restoration.
To connect your prosthetic device to the dental implants below, a connecting abutment is placed on top of the dental implant, which is buried beneath the gum line. The tooth replacement will be attached to this connector, either a crown for a single tooth replacement or a denture to replace several teeth.
The restoration that is secured on top of your dental implant depends on how many missing teeth you have, and where the missing teeth are located in the mouth. Single missing teeth are replaced with a crown that's securely fixed to the dental implant, while several missing teeth in a row may be replaced with a bridge. Dentures can also be supported by dental implants.
Learn More about Single Tooth Replacement
Learn More about Multiple Tooth Replacement
Missing All of Your Teeth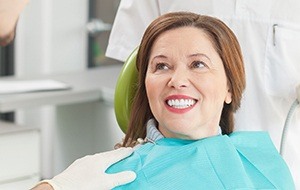 Many patients don't realize that partial and full dentures can also be supported by dental implants. This style of restoration is often more cost-effective because we can anchor a custom-made prosthetic over a small number of strategically angled implants instead of replacing each lost tooth with its own individual post. Implant-retained dentures can even be permanently fixed in place or left removable if the patient is already used to the ease of a traditional denture.
Learn More About Full Mouth Replacement
Start to Finish Convenience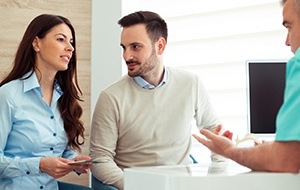 Most dental offices have to refer their patients to an outside specialist to have their implants placed, but at NJCD, our team has the special training to perform the entire procedure from beginning to end. This makes the implant process much more efficient and helps us create savings we can pass onto you in the form of both time and money. Plus, patients can have the peace of mind knowing that they'll be able to work with the same dentist and team they trust from beginning to end.
Understanding the Cost of Dental Implants
The first step is ensuring that a dental implant or implants are in your best interest. The second step is to make sure they are affordable for you. Of course, cash, check, and credit cards are welcome. Many people, however, do not have the funds available for dental implants. In these situations, we offer CareCredit and we are more than happy to help you get approved. CareCredit has six-month and twelve-month payment options. If all payments are paid on time, there is no interest charged!! Simply contact us or visit our page regarding payment and insurance.
Schedule your appointment at North Jacksonville Complete Dentistry to discuss dental implants today. We welcome all patients from the North Jacksonville area including Bryceville, Callahan, and Nassau Village.
Learn More About Cost of Dental Implants
Maintaining & Caring for Your Dental Implants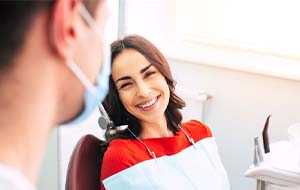 Unlike regular dentures and bridges, dental implants are built to last. As long as you take good care of them, they have more than a 95% chance of lasting for several decades to come. Luckily, dental implant maintenance doesn't require anything complicated like taking out your prosthetic before bed and letting it soak overnight. In fact, dental implant care in Jacksonville is fairly simple; just follow these five easy steps!
Make Oral Hygiene a Priority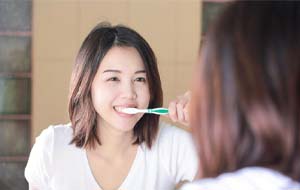 The restorations on top of your dental implants can't develop cavities, but they still need to be brushed and flossed like natural teeth. Otherwise, they could harbor bacteria that attacks the gum tissue holding your implants in place. Eventually, this could lead to dental implant failure. Not to mention, it could cause decay if you have any natural teeth left. Make sure that you're flossing every day and brushing at least twice daily for two minutes each session.
Eat a Healthy Diet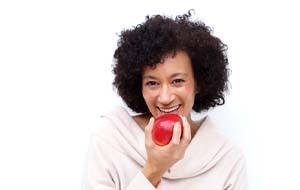 Treating yourself to the occasional candy bar or bag of potato chips shouldn't be an issue, but remember that moderation is key. Harmful bacteria in the mouth feed on sugary and starchy particles that linger on the teeth, making it easier for them to cause cavities or gum infections that could jeopardize your implants. Make sure that your diet is rich in fresh fruits, vegetables, leafy greens, and dairy products. Vitamin C and calcium are particularly beneficial when you have dental implants in Jacksonville, as they promote healthy gums and bone, respectively.
Break Bad Habits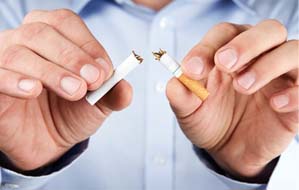 Do you smoke, chew on pen caps, or bite your fingernails when you're stressed? Do you sometimes try to save time by opening packages with your teeth? These habits can all too easily spell disaster for your new pearly whites. You should never use your teeth as tools for anything other than chewing food; the extra force from these habits could lead to breakage. Smoking is one of the worst things you could do for your health, as it increases the risk of gum disease, oral cancer, and numerous other conditions. Ask your implant dentist in Jacksonville if you need help kicking bad oral habits.
Protect Your Dental Implants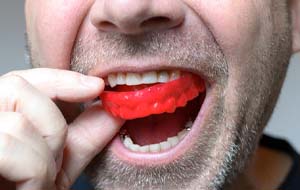 Most people remember to wear a helmet when playing certain sports, but they forget to protect their teeth by wearing a mouthguard. Our team can make you one of these oral appliances that perfectly fits your unique smile and shields your teeth (implant or natural) from severe injury due to impact. On a similar note, you should wear a nightguard if you suffer from bruxism, or chronic nighttime teeth grinding. This habit could weaken your implants and teeth to the point where they break more easily.
Schedule Regular Dental Checkups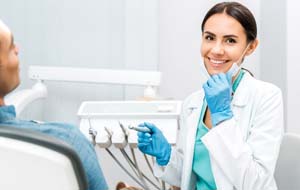 When you visit us twice a year for a routine checkup, our dentists have the opportunity to detect small issues with your implants that you may not have noticed yourself. This way, they can stop oral health problems in their tracks, preventing them from harming your smile.
Dental Implant FAQs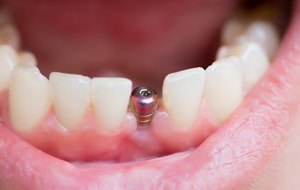 Dental implants are a big investment. It is natural to have several questions about the treatment before committing to it. We take the time to explain the process and address your concerns because we want you to feel confident in your decision. In the meant time, we have the answers to the most common dental implant FAQ's in Jacksonville to help you make the right choice for your smile.
Can I Get Dental Implants If I Have Gum Disease?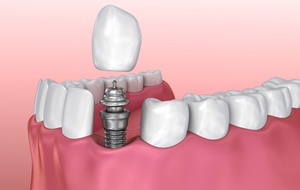 If gum disease was the cause of your tooth loss, you may still be a candidate for dental implants; however, the infection cannot be active. As a result, you will need periodontal therapy to treat it before we can move forward with your placement surgery. You may also need additional procedures to repair the damaged caused by the infection, like bone grafting.
How Long Does the Process Take?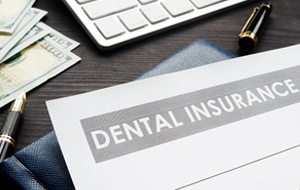 It is no secret the dental implant process teeth takes longer than when using traditional methods, but it is time well spent. Your treatment is performed in multiple stages to ensure the long-term success of your new smile. Although the length of time needed varies depending on your individual treatment plan, the entire process usually takes about 3 to 6 months.
First, you need to schedule a consultation to ensure you are a candidate for dental implants. Besides a visual examination, we also take a CT scan to assess your jawbone. Based on the results, we may find you need additional procedures, like bone grafting or a sinus lift. This will add time to your treatment plan.
After your implant posts are surgically placed into your jawbone, you spend the next several months. Once your jawbone is fused to the posts, you need a second minor surgery to have the abutments placed on them. It takes about 2 weeks to heal from having the fixtures attached. During that time, your restorations are being made in the dental lab. It takes an average of 2 appointments to complete your restorations.
How Long Do Dental Implants Last?
Dental implants have over a 95% 10-year success rate. They have the potential to last for several decades with the right aftercare, like maintaining your oral hygiene and visiting your dentist regularly. Although your dental implants should never need to be replaced, your restorations suffer daily wear and tear. On average, your restorations last 5 to 10 years.
Can I Use My Dental Insurance?
Most dental insurances will not cover the entire cost of the treatment in full, but they may pay for certain aspects of it. Depending on your specific policy, your coverage can help to lower specific parts of your treatment, like the CT scan, anesthesia, or restorations. We work on your behalf with your insurance carrier to reduce the amount you need to pay out-of-pocket. We will take the time to discuss your payment options to cover any remaining balance to keep your new smile affordable.
If you have any questions about dental implants, do not hesitate to contact our office.