Invisalign® Clear Braces – Jacksonville, FL
Straighter Teeth without Metal Braces
Many people with gaps between teeth, crooked, misaligned, or rotated teeth have seen true transformation with Invisalign. Dr. Baxter and Dr. Bradberry provide Invisalign treatment conveniently on Dunn Avenue in North Jacksonville. We welcome new patients and as always are happy to answer any questions that you may have. Feel free to call us at (904)751-4958 or click here to contact us any time.
Why Choose North Jacksonville Complete Dentistry for Invisalign® Clear Braces?
Always custom-made to guarantee a comfortable fit
Discreet appearance—no one will notice you're using Invisalign
Often able to work faster than traditional orthodontics
What is Invisalign?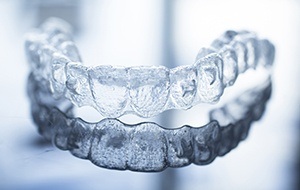 Invisalign has been called the clear alternative to braces. This treatment consists of a series of clear, thin, specialized plastic aligners that are worn for two weeks each. Each set of aligners moves the teeth slightly to the custom desired position that has been agreed upon with patient and doctor.
Invisalign vs. Traditional Wire Braces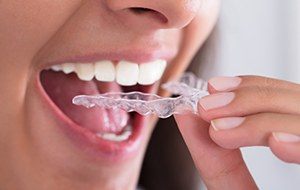 Many people ask us what benefits Invisalign provides over traditional braces. Here are a few;
No painful wire tightening appointments
Many teens and adults love Invisalign because the aligners are nearly invisible. This alleviates much of the social challenges brought about by traditional braces
Invisalign trays can be removed to eat. This eliminates the selective diet required with braces
Invisalign trays can be removed to brush and floss the teeth. Many times we see permanent white spots created from traditional braces due to the challenges of oral hygiene
What is the Process?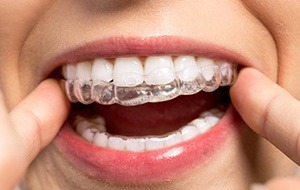 Invisalign treatment begins with a consultation. You would sit down with Dr. Bradberry or Dr. Baxter and discuss your goals. From there, a discussion would ensue regarding predictability, timing, outcome, and desires. A series of photographs and impressions will be taken and sent to the specialists at Invisalign. They will create a custom digital treatment plan. You will have the ability to review the treatment plan and then get excited. Only then will the treatment begin.
Who is a Candidate for Invisalign?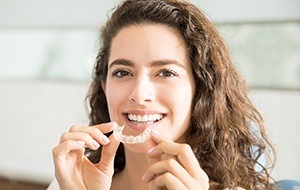 Invisalign will treat gaps between teeth, rotated or crooked teeth, and a host of other misalignments. Your doctor will be instrumental in your treatment plan and a consultation will reveal the possibilities. Although Invisalign has limitations, advances in materials and technology has allowed us to treat problems that we never imagined possible years ago.
For more before and after pictures, click here to visit Invisalign's before and after page.
Feel free to contact us at any time for more information!
Invisalign FAQs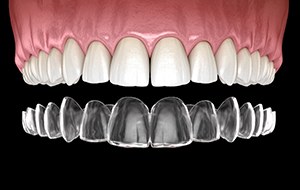 At North Jacksonville Complete Dentistry, we believe in providing our patients with the most in-depth, detailed information about their upcoming treatment. Should you choose Invisalign in Jacksonville to straighten your teeth or realign your bite, we invite you to review the following frequently asked questions to have a better understanding of what you can expect. Once you've finished reading through this page, we invite you to contact us with any additional questions you might have about Invisalign treatment.
What is the difference between Invisalign and DIY aligners?
When choosing to straighten your smile, it's always best to seek the help of a licensed professional instead of resorting to one of the many DIY (Do-It-Yourself) aligner solutions. While it may be tempting to go with a mail-order product because of its cost, you may find there to be numerous problems that develop along the way.
The reasons you should opt for Invisalign include:
Your treatment will be administered and monitored by a professional who has the training and educational background to ensure positive results.
The aligners you will receive are custom-made to your smile, which means you don't have to worry about poorly fitting aligners irritating your soft oral tissues.
Your impressions will be clear, defined, and easy for technicians to use when creating your aligners. DIY aligners use messy dental putty that may or may not produce accurate impressions.
How should I clean my aligners?
You may opt for Invisalign Cleaning Crystals to keep your aligners free of dried saliva and bacteria, or you can use your toothbrush. If you prefer to avoid paying for additional products, make sure you use a soft-bristled toothbrush, clear soap, and lukewarm water to thoroughly clean your trays. Never rinse or wash your aligners in hot water, as this can warp the plastic and require you to get a new tray, which can potentially delay your treatment.
Why is it necessary to wear aligners for 22 hours?
When wearing Invisalign, you will need to keep your trays in for at least 20-22 hours. Why? Because your teeth need continuous pressure in order to shift in the right direction. If you want to avoid a delay in treatment and stay on track, keeping your aligners in for at least 22 hours will get you the results you desire.
While it is necessary to remove your trays to eat, drink (anything but water), and clean them, it's strongly advised that you do not remove them for any other reason.
Is it necessary to wear a retainer after I'm finished with Invisalign?
Yes, a retainer is an important part of your overall treatment. While you may be done with wearing your Invisalign aligners, your dentist in Jacksonville will require you to wear a retainer to keep your teeth from shifting back into their original position.
At first, you may be expected to wear it all the time; however, after several months, you may be able to wear your retainer only at night while you are asleep.