Veneers – Jacksonville, FL
Smile Like the Stars
If you are in need of a smile boost to fix chipped, gapped, stained, or otherwise imperfect teeth, porcelain veneers may be just the solution you have been hoping for. Dr. Bradberry and Dr. Baxter are pleased to offer high-quality veneers for patients of North Jacksonville Complete Dentistry!
Why Choose North Jacksonville Complete Dentistry for Porcelain Veneers?
Able to fix multiple imperfections in just two appointments
Custom-designed for ever patient
Can provide a minor touch-up or dramatic makeover
What Are Porcelain Veneers?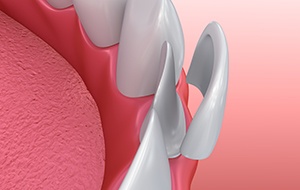 Porcelain veneers are currently one of the most popular cosmetic treatments for adult patients. They are thin porcelain restorations that can be affixed to the front side of the teeth that show when you speak and smile -- those also known as the "social six." Veneers are completed over the course of two visits to our office and are highly customizable to match the size, shape, and shade that will suit your facial features best.
What Can Porcelain Veneers Fix?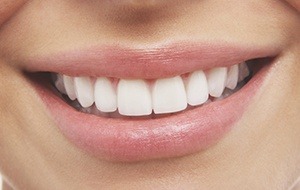 Porcelain veneers do not "fix" imperfections -- instead, they simply cover them up. For this reason, they are best used for cosmetically flawed but otherwise healthy teeth. If you have sustained more significant damage that affects the function of the teeth, a sturdy crown or other restoration may be more beneficial.
Some of the issues that porcelain veneers can be used to treat include…
Chipped teeth
Uneven teeth
Slightly gapped teeth
Stained or discolored teeth that have not responded to professional whitening treatments
Teeth with an irregular surface, like pitted and grooved enamel
Pointed, stubby, or otherwise misshapen teeth
What Is the Process for Porcelain Veneers?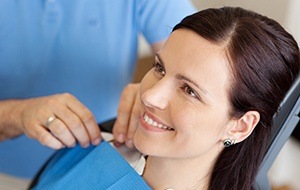 It only takes two visits and between two to four weeks to dramatically improve the appearance of your smile with veneers. During an initial consultation, we will examine your teeth and discuss your personal smile goals to confirm that you are eligible for this treatment. If the answer is yes, we will get started right away!
In order for the veneers to look natural in your smile, a small portion of tooth enamel must be removed before they can be placed. After the teeth have been prepared, an impression (or mold) will be taken. This information is sent along with the details of your treatment plan to our partner lab, where the veneers are crafted from high-quality porcelain. Once this process is complete, you return to our office for the final placement of the veneers. A special bonding solution is used to secure the veneers onto the teeth.
How Long Do Porcelain Veneers Last?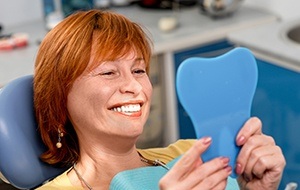 When cared for properly, porcelain veneers can last for up to 20 years before replacement is recommended. Because these restorations are made from a single piece of porcelain, repair is usually not possible -- instead, the entire veneer will need to be replaced. This is eventually necessary due to gradual wear and tear and natural changes in the teeth and gums.
To help ensure your veneers last for as long as possible, keep the following in mind.
Maintain excellent oral hygiene to protect your surrounding teeth and gums from decay and disease
Avoid damaging habits like nail biting and chewing ice
Do not open packaging or attempt to cut through plastic with veneers
Protect your smile with a mouthguard if you play contact sports or grind your teeth at night
To learn even more about veneers, including whether or not you are a candidate, we invite you to get in touch with our office! We can't wait to show you how great your smile can look with help from cosmetic dentistry. Go ahead and request an appointment to discuss veneers.
Veneers FAQs
Are you ready to kiss the imperfections in your smile goodbye? With custom-made veneers in North Jacksonville, your dream smile is within reach. Our dentists have helped countless patients boost their confidence with this versatile cosmetic dental treatment. If you have questions about the process, we encourage you to call us and set up an appointment. In the meantime, it may help to read through this list of frequently asked questions about veneers.
Does Getting Veneers Hurt?
At North Jacksonville Complete Dentistry, our goal is to always ensure you're comfortable while getting the care your smile needs. Thanks to local anesthetic, we can make that goal a reality. In most cases, we'll numb your mouth before preparing your teeth and placing veneers. You may experience some soreness in your mouth afterward, but we'll provide you with aftercare tips to make your recovery as smooth as possible.
Will My Veneers Look Natural?
If you're receiving a small number of veneers, you may be wondering whether the results will stand out compared to the rest of your smile. You'll be happy to know that your dentist in North Jacksonville designs each of your veneers to mimic your existing tooth enamel. There's no need to worry about "chiclet teeth" or other abnormalities – the end result of your treatment will be a perfectly natural-looking yet improved smile!
How Does Getting Veneers Affect My Natural Teeth?
While today's veneers are thinner than those of the past, they still require some enamel removal prior to placement. Enamel does not grow back after it has been lost, meaning that veneers is a permanent treatment. Moving forward, the affected teeth will always need some sort of restoration to protect them from sensitivity, decay, and damage. Fortunately, veneers can last for quite some time!
Will Veneers Impact My Diet?
Unlike metal braces, veneers can give you a well-aligned smile without restricting the foods you're allowed to eat. Once your veneers have been placed, you may want to stick to soft foods for the first few days, but after that, you can resume your normal diet. Just like with natural teeth, chewing on extremely hard foods or inedible items like ice can increase your risk of breakage. However, it is very rare for veneers to become fractured.
What Should I Do If One of My Veneers Comes Off?
Even though veneers are made of a durable material and are attached with a powerful bonding agent, there may be occasions when they pop off of your tooth. If this occurs, try not to panic. Instead, gently rinse off the veneer and call our office. In the meantime, do not attempt to reattach your veneer by yourself with any kind of household glue. This could permanently damage your veneer as well as your tooth.