Veneers – Jacksonville, FL
Smile Like the Stars
Are you in need of a smile boost? If you want to fix chipped, gapped, stained, or otherwise imperfect teeth, veneers may be just the solution you have been hoping for. In as little as two appointments, you can have a set of pearly whites you'll never stop showing off. At North Jacksonville Complete Dentistry, Dr. Bradberry and Dr. Baxter are pleased to offer high-quality, durable, and custom-made veneers for patients of Jacksonville! To learn more about this cosmetic service, continue reading or give our office a call today!
Why Choose North Jacksonville Complete Dentistry for Veneers?
Ability to fix multiple imperfections in just two appointments
Custom-designed for every patient
Can provide a minor touch-up or dramatic makeover
What are Dental Veneers?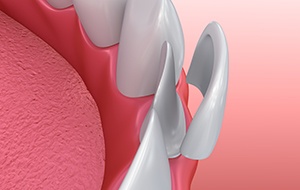 Veneers are currently one of the most popular cosmetic treatments for adult patients. They are thin restorations that can be affixed to the front side of the teeth that show when you speak and smile -- those also known as the "social six." Veneers are completed over the course of two visits to our office and are highly customizable to match the size, shape, and shade that will suit your facial features best.
Some of the issues that veneers can be used to treat include:
Chipped teeth
Uneven teeth
Slightly gapped teeth
Stained or discolored teeth that have not responded to professional whitening treatments
Teeth with an irregular surface, like pitted and grooved enamel
Pointed, stubby, or otherwise misshapen teeth
The Process of Getting Veneers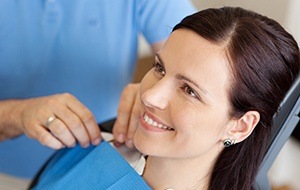 It only takes two visits and between two to four weeks to dramatically improve the appearance of your smile with veneers. During an initial consultation, we will examine your teeth and discuss your personal goals to confirm that you are eligible for this treatment. If the answer is yes, we will get started right away!
For the veneers to look natural, a small portion of tooth enamel must be removed before they can be placed. After the teeth have been prepared, an impression (or mold) will be taken. This information is sent along with the details of your treatment plan to our partner lab, where the veneers are crafted from high-quality materials. Once this process is complete, you return to our office for the final placement of the veneers. A special bonding solution is used to secure the veneers onto the teeth.
The Benefits of Veneers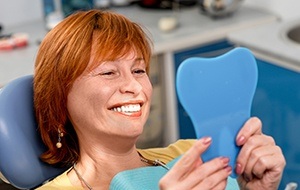 By choosing to transform your smile with veneers in Jacksonville, you can expect to reap several incredible benefits, such as:
Minimally invasive treatment
Natural-looking results
Long lifespan (up to 15 years with proper care and maintenance)
Improvements in the color, size, shape, and proportion of your teeth
Results in as little as two appointments
Understanding the Cost of Veneers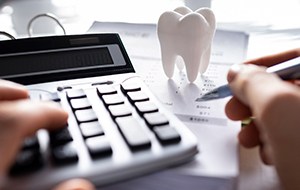 Are you worried about the cost of veneers? It's a fair concern – you wouldn't want treatment to exceed your budget. However, the reality is that veneers' price varies by the patient in question. You'd have to consult our dentists for an exact treatment estimate. Fortunately, though, North Jacksonville Complete Dentistry will walk you through the financial details. In particular, we'll outline all your cosmetic choices and the available payment options. For more details, just keep reading or book a visit to our office!
Cost vs. Cosmetic Dentistry: What's Right for Me?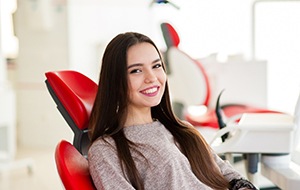 You really can trust our office for excellent veneers. That being said, we do provide other cosmetic services; each also has a distinct price and effect. To ensure cost-effective care, you'd be wise to review them before settling on veneers. Here, then, are the available choices:
Dental Bonding – By applying tooth-colored resin to teeth, dental bonding hides minor smile flaws. The option is also a quick and low-cost one. Still, this treatment's effects aren't long-lasting; they need touching up every few years.
Teeth Whitening – Teeth whitening (per its name) brightens your smile with a special gel. More specifically, it bleaches tooth stains from your enamel. While fast-acting, though, the option is moderately-priced and only affects tooth color.
Ceramic Restorations – Being non-metallic, ceramic fillings and crowns both protect teeth and help them look better. They're shaded to match your enamel and blend seamlessly with your smile. Such high-quality features, however, make them a tad pricey.
Porcelain Veneers – Veneers are shells placed on the fronts of teeth. Following their placement, they hide smile flaws like chips, cracks, stains, etc. The shells' versatility can make them rather expensive.
Invisalign® Clear Braces – Invisalign clear braces align your smile quickly and subtly. Their removability also ensures they don't interfere with meals or tooth care. Even so, they're a big financial commitment – the sets of trays can cost thousands of dollars.
How to Make Veneers Affordable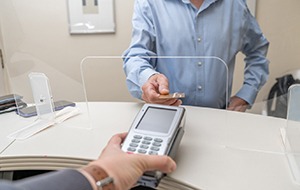 Unfortunately, most dental plans don't cover veneers. Insurance companies see the shells as cosmetic and thus "medically unnecessary." On the other hand, there are occasional exceptions; a policy may cover veneers if they protect a damaged tooth. Therefore, confirm your benefits before pursuing treatment. Our dental team can assist with that process if necessary.
Of course, other ways besides insurance can make veneers affordable. North Jacksonville Complete Dentistry, for example, works with several third-party financiers. Through them, you could pay for veneer work in low-interest monthly installments. You'd then be able to cover care gradually instead of all at once.
Ultimately, you should book a consultation to learn more about veneers and their cost. We'd be happy to explain further and give you a beautiful and budget-friendly smile.
Veneer FAQs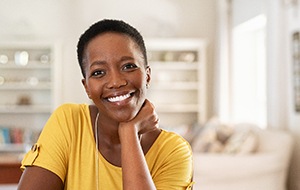 If you're in the Jacksonville area and you have a question about veneers – from the treatment process to how much they cost – please don't hesitate to get in touch with our team. We take pride in being as informative, transparent, and helpful as possible. So much so that we've dedicated this next section to answering frequently asked questions about veneers!
Is It Painful to Get Veneers?
Since veneers are more invasive, it's common for prospective patients to be concerned about discomfort. The good news is that your mouth will be thoroughly numbed beforehand. As a result, you shouldn't feel any pain. Of course, you may experience some soreness or sensitivity for the first week or so afterward. Don't worry – it's minor, temporary, and nothing that can't be alleviated with an over-the-counter pain reliever, like ibuprofen.
How Many Veneers Will I Need?
That's a great question, and one we will aim to answer at your consultation! After all, no two smiles are the same, and patients don't always have the same aesthetic goals. While one patient may want to fix one chipped tooth with a veneer, the next may want 10-12 to address permanent discoloration. That's why we need to learn more about your dental concerns and smile goals before determining how many veneers we recommend.
Do Veneers Feel Like Real Teeth?
They do! To start, veneers are custom-made for each patient, which means they won't protrude unnaturally or feel bulky. Furthermore, they are crafted from high-quality dental materials, like porcelain, ensuring they function as great as they feel.
Can You Whiten Veneers?
Simply put, the answer is "no." While your natural enamel responds well to whitening gels, materials like porcelain do not. In fact, whitening treatments can actually weaken the bond your veneers have, increasing the chances of them becoming loose or falling off altogether. That's why we recommend scheduling a consultation with our Jacksonville cosmetic dentists to discuss your treatment options. We can help you determine the best choice for your smile, your existing dental work, and your wallet.
Will I Still Be Able to Drink Coffee with Veneers?
Fortunately, the start of your journey with veneers doesn't mean the end of your days drinking coffee. On the contrary, many patients choose veneers because they are stain-resistant! While you don't have to give up this caffeinated beverage for the sake of your smile, we do recommend taking a few proactive measures, such as using a straw. Additionally, you should keep additives (like sugar) to a minimum, rinse your mouth with clean water afterward, and brush your teeth about 20 minutes later.
How are Veneers Different Than Crowns?
Veneers differ from crowns in a few noteworthy ways. In addition to being a cosmetic dental treatment (not a restorative one), veneers only cover the front-facing surface of your teeth. Furthermore, veneers aren't typically used on molars since they aren't designed to withstand that level of pressure from chewing. Naturally, dental crowns are the opposite; they are a restorative treatment, they cover your entire tooth, and they are primarily used on molars.