November 10, 2016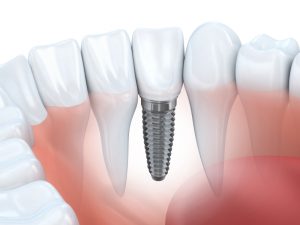 If there's one thing that's certain in dentistry, it's that nothing replace one or more missing teeth better than the dental implant. It's the only truly comprehensive method for tooth replacement currently available. But how do dental implants work? How long do they take? And are you a good candidate for dental implants in Jacksonville, FL? Let's take a look.
What Is a Dental Implant?
The dental implant is made up of three parts. There's the dental implant itself, the connecting abutment, and the prosthetic tooth that is affixed on top.
Dental implant: A small titanium post that is surgically placed beneath the gum line. Over a period of four to eight months, the dental implant gradually fuses with the jawbone in the process known as osseointegration.

Abutment: Once osseointegration is complete, the dental implant is exposed once more and a connecting abutment is attached to the top. The gums are given more time to heal after this middle stage.

Tooth replacement: After the gums have healed again, the prosthetic tooth is attached to the connecting abutment and the process is complete.
In all, dental implants may take up to one year to complete. It is an investment in time, but patients who choose dental implants agree that it is worth it. In the end, you have a tooth replacement that fits, feels, and looks just like the natural teeth.
Procedure for Dental Implants
Dental implants are completed in two major phases: implantation and restoration. Most dentists perform restoration, or the period when the tooth replacement is affixed to the dental implant, but have to refer the initial procedure out of the office.
Dr. Johnson and Dr. Baxter perform the entire procedure for dental implants from the comfort of our state-of-the-art office. North Jacksonville Complete Dentistry offers comprehensive dental implant dentistry for increased comfort and convenience.
First, your dentist studies your mouth, considering your tooth loss and the surrounding oral structures. A treatment plan is put in place for your tooth replacement, and the dental implants are surgically placed beneath the gum line.
After the recovery period of four to eight months is complete, the dental implants are sturdy in the jaw and are ready to be restored. The connecting abutment is placed, and you return to our office for the final step — or when your prosthetic teeth are affixed to the dental implants.
Are You a Candidate for Dental Implants?
Many patients who wish to have their teeth restored with dental implants are good candidates for the treatment. We will evaluate your oral and overall health to determine whether or not you can benefit from implant dentistry. We have a range of options available if implant dentistry is not a possibility for your tooth loss.
Dental implants need plenty of healthy gum and bone tissue. People who have serious levels of periodontal disease should seek treatment before they can undergo the procedure for dental implants. If too much bone matter has been lost due to periodontal disease, a bone grafting procedure may be necessary in advance of dental implants.
Contact your dentist in northside Jacksonville, FL to discuss your eligibility for dental implants today!
Comments Off

on Want Dental Implants in Jacksonville, FL? Here's What to Expect
No Comments
No comments yet.
RSS feed for comments on this post.
Sorry, the comment form is closed at this time.