February 15, 2017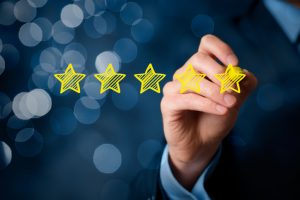 The world is a wondrous place, and one reason why is that the internet allows you to review just about anything. Restaurants, businesses, and even cemeteries are given stars by the millions every day. Of course, this means you can review your dental practice as well. The question is, why are these reviews important? Do they actually reflect the quality of the practice? What does it actually mean to be a 5-star practice? Today, your Dunn Avenue dentist, Dr. Ryan Johnson, is going to discuss why reviews matter, and how he and his team have been able to get so many positive ones.
Why Reviews Matter
There is so much information on the internet that it is sometimes difficult to take any of it seriously. For every scholarly article there are about thirty cat videos. Reviews are an integral part of both the internet and modern dental practices these days, but are they actually important?
The short answer is yes. One of the best indicators of the quality of a practice are its online reviews. It gives the people who have been to the practice and received their care a chance to share their experience. Quality (or a lack thereof) tends to speak for itself. Many practices offer the same basic services, but that does not mean they are equal. It gives people a chance to talk about what really matters. How friendly was the staff? Did the doctor answer all of their questions? Were they happy with the result of their treatment? Would they recommend other people to the practice?
The answers to these questions are where the proverbial rubber meets the road for a dental practice, and by reading these reviews, you'll get a better idea of what they have to offer.
What Makes Us a 5-Star Practice
Of course, after reading that, the first thing you probably did was look at our reviews. What you found were over 50 5-star reviews and a lot of happy patients. How are we able to accomplish this? What about our practice compels people to take time out of their day to write about us?
It all starts with our doctors, Dr. Johnson and Dr. Baxter. In addition to being trained at some of the finest schools in the country, they also have decades of experience helping people's smiles. They, along with their team, take the extra steps to assure that their patients get great results and have a positive experience. This often comes down to the little things, but you can see how they add up in all of our reviews.
We also offer a type of dentistry not seen in other offices, complete dentistry. What is complete dentistry? It is an approach that treats your teeth while keeping in mind that they are part of a system that involves your jaw, neck, and head. Often, dental problems can be caused by a misalignment of the jaw, and by only fixing your teeth, the problem still isn't addressed. Our method enables us to give you comprehensive care that ensures you are completely taken care of and that your results will last for a long time. This is the kind of difference that makes our care special, and why patient after patient can't wait to give us 5-stars.
Come Experience the Difference
You know the difference when you walk into a 5-star dental practice; the quality almost hangs in the air, you feel like you can touch it. You're greeted by a friendly face whenever you come in, and the doctor gives you gentle, but effective treatments that always help your smile. We're sure that after you come see us, you'll be eager to write a 5-star review and call us your North Jacksonville, FL dentist, too.
If you'd like to know more about what makes us different, how we help our patients, or want to schedule an appointment, please give us a call today.
Comments Off

on Are Reviews For My Dunn Avenue Dentist Important?
No Comments
No comments yet.
RSS feed for comments on this post.
Sorry, the comment form is closed at this time.