September 26, 2016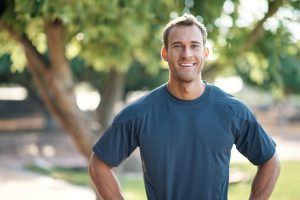 You try to stay completely silent. You are surrounded by vicious predators on all sides. They are casually loping around you, barely noticing your presence. This is your first visit to the Catty Shack Wildlife Sanctuary and you are amazed at the variety of panthers, lions, and colorful tigers that surround you. You and a crowd of people have gathered around the pen of a snow white Siberian tiger. It yawns and you see a row of jagged, sharp teeth. Everyone else in the crowd opens their mouths empathetically, and you see wonder and curiosity light up their eyes. You can't help but look at all of their teeth as well. You wish you could casually show yours, but you feel self-conscious about them because they may be crooked or discolored. You no longer need to worry with porcelain veneers in Jacksonville, FL.
What Are Porcelain Veneers?
Porcelain veneers themselves are extremely thin ceramic shells that are bonded to the front of your teeth. The ceramic material used assures they are both aesthetically pleasing and durable. Veneers can correct one or all of these dental issues:
Chipped, cracked, or broken teeth
Discolored teeth
Misaligned teeth
Teeth with noticeable gaps.
Porcelain veneers are one of the rare dental restorations that can address this litany of issues without drastic, invasive procedures.
What Is The Procedure Like?
The process for getting porcelain veneers is virtually painless and be completed in as little as two visits. Once Dr. Johnson or Dr. Baxter have decided that you are a qualified candidate for veneers, they will begin by buffing off a slight amount of your natural enamel. This will allow room for the veneers to be placed on your teeth. An impression will be taken and an outside dental lab will fabricate your veneers. Upon the second visit, one of the doctors will bond the veneers to your teeth using a composite resin. This bond is very secure and will allow your teeth to feel as secure as they ever did, whether socially or functionally.
How Long Do They Last?
The material used to make the veneers is intended to be stain resistant, so your renewed brightness should last the entire time you have the veneers. Proper care, such as regular brushing and flossing, will see the veneers last anywhere from 7 to 20 years. Usually the biggest factor that changes the appearance of the veneers is the surrounding natural structure of your gums and teeth. As we age, these structures move, and may affect how the veneers sit. They can be easily replaced or bonded again if necessary. Porcelain veneers are a great way to fix a whole variety of dental issues with one easy procedure, so please give us a call today if you think they could help you.
Comments Off

on Smile for Years with Porcelain Veneers in Jacksonville, FL
No Comments
No comments yet.
RSS feed for comments on this post.
Sorry, the comment form is closed at this time.