January 14, 2018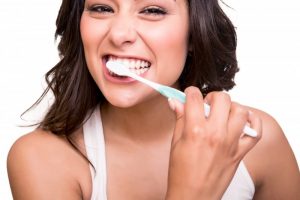 If you were taught how to take of your mouth as a child, many of these points may seem obvious to you. However, as we age, a lot of that information can get lost in time. We may lose sight of the habits we once had and maybe even stopped including them entirely. Fortunately, your dentist in Jacksonville is here to offer a friendly reminder.
In today's post, we'll be discussing the best ways to maintain proper oral health inside and outside the bathroom. If you want to prevent gum disease and tooth decay, this is one blog you won't want to miss.
When You Should See Your Dentist
According to the American Dental Association, you should visit your dentist at least twice a year, ideally every 6 months. Each time you visit, you'll need to have an examination and a cleaning to ensure that your at-home oral care routine is working effectively. The examination is also intended to catch early signs of gum disease and oral cancer so it can be treated right away.
While you may think brushing your teeth twice a day with fluoridated toothpaste is enough to prevent cavities, your toothbrush and toothpaste isn't the same quality that professional-grade tools and toothpaste are. There are also many areas of the teeth, such as the deep pockets of your gums that require cleaning with special dental tools, so just know you're getting your money's worth every time you visit.
How to Incorporate Flossing into Your Routine
Let's be honest: flossing is not easy at first, but it makes a huge difference. Plaque can build up on the sides of your teeth and seep into your gums, so taking the extra time to remove it will dramatically reduce your odds of getting gum disease.
If you notice your floss is tearing apart easily, switch to a waxed floss as this is type holds up better against teeth. If traditional flossing is too difficult, switch to handheld disposable floss picks. These are better at reaching touch areas, such as your molars.
Mouthwash: Should You Use It?
Mouthwash isn't just for freshening your breath anymore. It's also a great way to strengthen your tooth enamel and give your existing enamel a protective shield. This will help protect it from staining as easily.
If you find using mouthwash too painful, look for an alcohol-free variation. These are available in almost every supermarket in your oral care aisle. You'll find many flavors and features with mouthwash, so choose the one that fits your preference best.
What to Do When You're Have Tooth Pain
If you have a toothache, schedule an appointment with your dentist in Jacksonville right away. Depending on the severity, it could be a sign of something worse such as an infection. If the pain goes away on it's own, pay attention to the foods you eat and your oral habits to see if there's a connection to the pain. When you get to your dentist, they'll examine the area and give their opinion for the best treatment method.
With these tips in mind, you can't go wrong with oral health. Schedule your next appointment with your dentist in Jacksonville today!
About the Author
Dr. Ryan Johnson loves people and helping his community have better oral health. He's incredibly proud of his profession and is so tenacious to learn more, he continues his studies through a Fellowship with the Academy of General Dentistry, even after graduating dental school. To learn more about his practice, contact him at (904) 751-4958 or visit his website.
Comments Off

on How to Maintain Proper Oral Health with Your Dentist in Jacksonville
No Comments
No comments yet.
RSS feed for comments on this post.
Sorry, the comment form is closed at this time.