February 4, 2020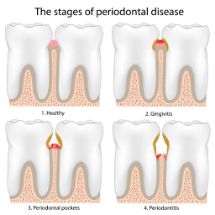 Did you know that February is not only American Heart Association Month but also Gum Disease Awareness Month? You may think that's just a coincidence, but the truth is that your gums and heart are more related than you realize. In fact, it's thought that people with gum disease (also called periodontal disease) have nearly double the chance of developing heart disease, which is just one more good reason to floss each day! Keep reading to learn more about the link between your gums and your heart and how a dentist can help you stay healthy.
How Does Gum Disease Affect Your Heart?
It's common to think of your mouth as being separate from the rest of your body. After all, the medical and dental fields are completely separate. But the truth is that everything is connected, so oral health issues are bound to have an impact on your general well-being.
And the research backs that up, with overwhelming evidence that inflammation in the gums (which is a key factor in gum disease) affects the entire body, including the heart. It's thought that bacteria account for the link, which is what plaque and tartar are largely made of.
These bacteria accumulate under the gumline and cause chronic inflammation that leads to gum disease (symptoms include bleeding, swollen or tender gums, gum recession, persistent bad breath, and even loose teeth in later stages).
Since your mouth is highly vascularized (meaning it contains a lot of blood vessels), bacteria under the gums can easily enter the bloodstream and travel throughout the entire body, including the heart. That can lead to both plaque formation in the arteries as well as inflammation, both of which increase the risk for heart disease.
How Can a Dentist Improve Your Gums?
Think of you and your dentist as a team that works together to maintain your oral health. With regular checkups, they're able to regularly examine your gums and find problems early on. And while gum disease can't be cured, it can be managed to keep it from getting worse. Along with good oral hygiene habits at home, you'll lower your risk of tooth loss and heart disease.
If a dentist sees indications of gum disease, they may recommend the following types of gum therapy:
Scaling and root planing – This procedure addresses the root cause of gum disease: plaque, tartar and bacteria under the gumline. Also called a "deep cleaning," it's usually done in 2-4 visits, and you'll be numbed for comfort beforehand. After a thorough cleaning, a hygienist will also smooth the roots of your teeth to lower the chance of re-infection down the road.
Soft-tissue laser – A soft-tissue laser is a fantastic option and may be used during scaling and root planing. This tool precisely targets bacteria and infected gum tissue and offers the advantage of less bleeding and discomfort along with faster healing.
Gum disease is far more serious than most people realize, but with intervention and treatment, you'll have a healthier smile and a healthier body.
About the Author
Dr. Ryan Johnson is a family dentist and a graduate of the University of Colorado School of Dental Medicine. He loves helping people maintain great oral and overall health and always stays on top of the latest research so he can pass that information on to his patients. If you'd like to know more about gum disease or have any questions, he can be reached via his website.
Comments Off

on How Is Gum Disease Related To American Heart Association Month?
No Comments
No comments yet.
RSS feed for comments on this post.
Sorry, the comment form is closed at this time.