June 12, 2018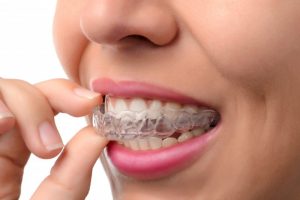 According to a research study conducted by Kelton from 2012, two out of five Americans would not go on a second date with someone with crooked teeth. In that same survey, over half of respondents believed people with crooked teeth would be less likely to be given a job offer when competing with someone with the same skills and experience. For these reasons, it's no wonder so many patients are asking about orthodontic treatment.
To learn how people develop crooked teeth and how Invisalign in Jacksonville can help you, keep reading!
What are the Main Causes of Crooked Teeth?
Whether it's crooked teeth, overbites, or underbites, most cases are inherited just like any other trait. Your susceptibility to having teeth grow in multiple directions is just as predictable as your eye or hair color, which is why it's so important to have a dentist examine your mouth at an early age. This way, if they determine that your teeth have growing patterns indicative of misalignment, you can start planning for orthodontic treatment.
Other causes of crooked teeth and malocclusions include:
Premature loss of baby teeth
Fillings or crowns that don't fit properly
Having a jaw too small to accommodate erupting teeth
Gum disease
Uneven bite distribution
Misaligned jaw after a dental injury
Tumors in the mouth or jaw
Poor habits during childhood, including thumb-sucking, tongue-thrusting, prolonged baby bottle use, and using a pacifier past the age of three
What is Invisalign?
Invisalign is a product designed to straighten teeth without the use of metal brackets, wires, or any other traditional orthodontic hardware. The product itself is a series of thermoplastic trays representing different stages in your realignment process. By applying small amounts of force to targeted areas of your smile, your cosmetic dentist in Jacksonville can effectively solve mild and moderate levels of misalignment more quickly than metal braces.
Furthermore, clear aligners are transparent and removable. This means you can complete treatment without making changes to your appearance, diet, or brushing habits. This is one of the more appealing aspects of Invisalign and the main reason why so many adults are pursuing it.
What Does the Invisalign Process Entail?
After your dentist determines you're eligible for Invisalign, you'll have a consultation. This will help you understand the commitment you'll need to make in order to keep your realignment process on schedule. Simply wear your aligners for a minimum of 22 hours per day, only removing to eat, brush, or take a quick photo. You'll switch to the next pair in the series every two weeks and visit your dentist every 6 weeks to ensure no adjustments are needed.
Since your treatment is planned from start to finish using Invisalign's own software, your dentist will know exactly where you're at in your treatment and make changes to your aligners as needed.
You don't have to settle for crooked teeth just because your parents did. Invisalign in Jacksonville may be the solution for you. To get started, schedule a consultation with your dentist today!
About the Author
Dr. Ryan Johnson works hard to understand patients' goals when it comes to realigning teeth. After taking photos and impressions and sending them to Invisalign, you'll have a digital treatment plan to examine before even starting the first pair! To learn more about the process or about his practice, contact him through his website.
Comments Off

on How to Fix Your Crooked Teeth With Invisalign in Jacksonville
No Comments
No comments yet.
RSS feed for comments on this post.
Sorry, the comment form is closed at this time.