October 30, 2020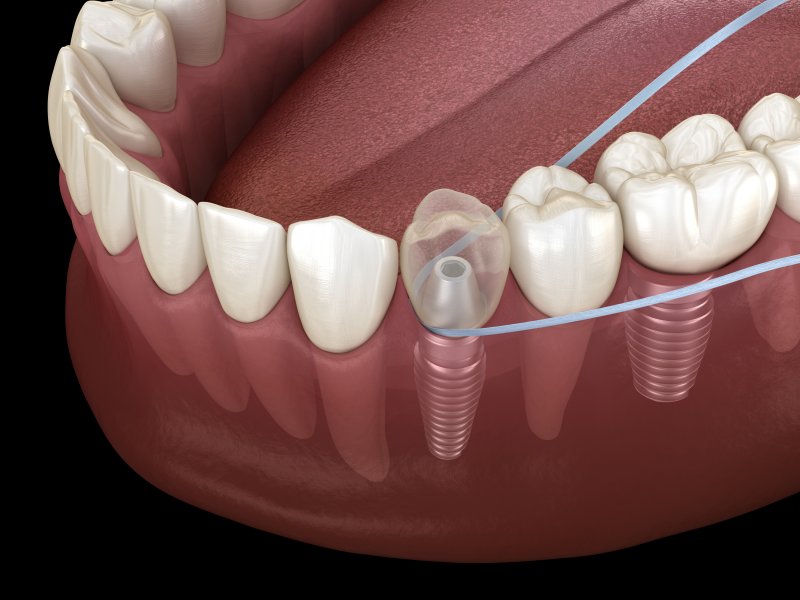 With modern dental technology, there are many different options to replace your teeth. One that is preferred by patients and dentists alike is dental implants. They have all sorts of benefits like maintaining the integrity of the jawbone, restoring up to 90% of your chewing power, and lasting upwards of 30 years! However, they only last if you properly take care of them through regular brushing and flossing. Your dentist shares the proper method for flossing dental implants in North Jacksonville and why it's so important.
How Do You Floss with Dental Implants?
It doesn't matter what time of day you floss your dental implants; it just matters that you always do at one point or another. If you are able to floss after every meal, that's even better! Flossing is necessary in order to remove food debris and bacteria that you cannot reach with your toothbrush. This includes between the teeth and beneath the gumline. In order to do a thorough job, take the following steps:
Use about 18 inches of dental floss every time you floss. Wrap it around your middle fingers and leave about two to three inches between your hands to floss with.
Slide the floss up and down gently between the teeth. Remember to rub alongside the dental implant and the crown.
Floss around and underneath the base of the tooth.
Carefully work the floss up and out of your teeth.
After every tooth, move on to a clean area of the floss so you don't accidently spread food debris and bacteria to another area in your mouth.
Why Is It Important to Floss Between Dental Implants?
Even though dental implants are resistant to tooth decay, the soft tissues that surround them are even more susceptible to periodontal disease than the area around your natural teeth. This is because your gums adhere strongly to natural teeth by the periodontal ligament. As for your dental implants, there is a much weaker seal called a peri-implant seal. When this breaks, which is not uncommon, bacteria can enter this pocket and can even access the jawbone, therefore affecting the fusion between the implant and the bone. Remember to floss especially gently around dental implants to prevent this from occurring.
By flossing with care every single day, along with daily brushing and regular visit to your dentist, you can prevent infection and keep your dental implants in the best shape possible for many years to come!
About the Practice
Since 1996, Dr. William D. Baxter has been serving patients at his practice in Jacksonville, FL. He earned his dental degree from the University of Pennsylvania School of Dentistry and has served in the United States Coast Guard. He works alongside Dr. Ryan Johnson, a graduate from the University of Colorado School of Dental Medicine. He is now pursuing his Fellowship with the Academy of General Dentistry. For more information on dental implant care or to schedule an appointment, visit their website or call (904) 751-4958.
Comments Off

on How to Floss Around Your Dental Implants
No Comments
No comments yet.
RSS feed for comments on this post.
Sorry, the comment form is closed at this time.