August 17, 2020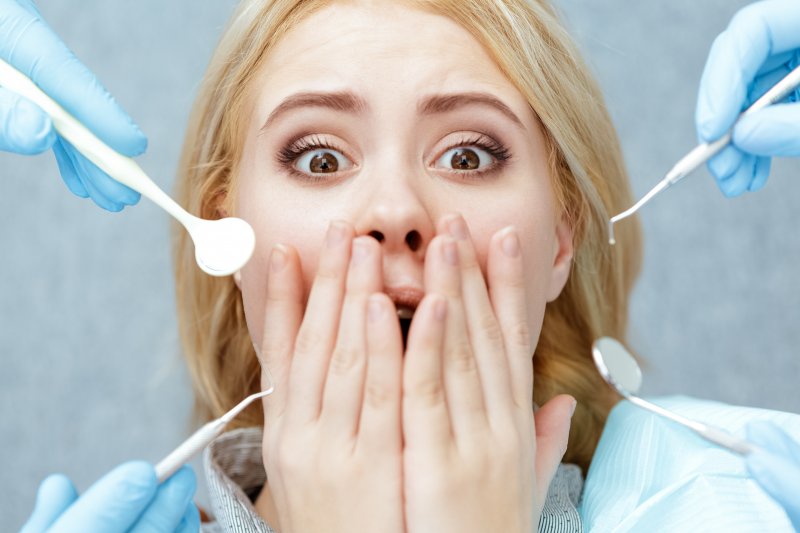 Dental anxiety is one of the most common reasons why some people don't go to the dentist on a regular basis. It is estimated that nearly 75% of adults in the United States have some level of fear regarding a visit to the dentist. In fact, somewhere between 9-20% of Americans avoid going to the dentist completely because of anxiety or fear. Fortunately, your dentist in North Jacksonville is here to help. Continue reading to learn a few ways that patients are able to reduce their anxiety levels as well as how sedation dentistry can help.
How to Reduce Dental Anxiety at Your Appointment
To help combat your anxiety during your dental visit, try some of the following tips:
Talk to the Dental Staff
By letting the dental team know how you're feeling, they can work with you to make your appointment go as smoothly as possible. Nobody wants you to have a bad experience, especially if it'll deter you from coming back for oral care in the future. Communicating with the team about how you're feeling throughout your treatment is helpful when it comes to finding a solution.
Listen to Music
If the sound of the tools in the treatment room make your anxiety worse, ask your dentist if you can put in your headphones and listen to music. Listening to a calming song may help you to relax and focus elsewhere while your dentist does their job.
Ask for a Step-by-Step Rundown
If you don't know what's going on during your appointment, you may find that your anxiety worsens. If this sounds like you, ask your dentist what exactly they plan on doing. Having your dentist explain to you everything that's going on as they do it can take some of the stress of your appointment away.
Use Hand Signals
When your dental team is working in your mouth, it can be difficult to talk and communicate. By establishing hand signals at the beginning of your appointment, you can signal to your dentist if you need to say something or want them to stop.
Breathe
This may sound like an obvious one, but many people actually hold their breath when they get nervous. This decreases the amount of oxygen in your system and can actually make anxiety worse. During your appointment, focus on your breathing to reduce stress.
For patients with higher levels of anxiety, oral sedation is an option. Your dentist will prescribe a medication for you to take about an hour or so before your appointment. By the time a trusted friend or family member drives you to the office, you will be perfectly relaxed. Even though you remain conscious throughout the visit and can answer questions from your dentist, many patients don't remember a thing afterwards!
If you suffer from dental phobia, you aren't alone. By taking some of these steps and working with your dentist, you can get the essential dental care you need with minimal anxiety.
About the Practice
At North Jacksonville Complete Dentistry, Dr William D. Baxter and Dr. Ryan Johnson are committed to providing quality dental care in a comfortable environment. Dr. Baxter earned his dental degree from The University of Pennsylvania School of Dentistry and has been serving patients in Jacksonville for over two decades. Dr. Johnson earned his DDS from the University of Colorado School of Dental Medicine and is committed to continuing education. They offer sedation dentistry at their practice. For more information or to schedule an appointment, visit their website or call (904) 751-4958.
Comments Off

on How to Reduce Anxiety at the Dental Office
No Comments
No comments yet.
RSS feed for comments on this post.
Sorry, the comment form is closed at this time.