October 7, 2018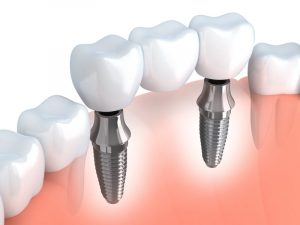 Thanks to advancements in implant technology, there are many ways to replace teeth, especially multiple teeth at a time. With that in mind, how do dentists know which option is best for a particular person? How do they know if a bridge is a better option than a full arch denture? The first step in determining that is by having the implant consultation.
During this initial meeting, you'll be able to discuss your needs, current oral health, and gain a professional opinion before any surgery is scheduled. When you're looking for multiple tooth replacement in Jacksonville, it's always the best first step to make.
What to Expect During the Implant Consultation
When you show up for your consultation, the dentist will perform a thorough examination of your teeth, gums and overall oral health. They'll also go over your current medical history to confirm if any gum disease has ever been present. Dental implants require that you have healthy gums and sufficient bone density. Both of these factors influence how well the implant adheres to your bone and how well your gum tissue heals around the implant and restoration. If you have inadequate bone volume, a bone graft will be needed before implantation.
The dentist will also perform X-rays so they can see how dense your jaw bone is and determine the best location to place the implant. After the examination is complete and the dentist confirms you're eligible for implants, you'll discuss your treatment options for replacing teeth.
Your Options for Multiple Tooth Replacement
Most people are aware of how dentists can replace single teeth with implants, but replacing multiple teeth can get more complicated. The two options you'll need to examine are implant-supported bridges and implant-supported dentures. Besides cost, you'll determine which option is best based on the number of teeth you need replacing.
For example, replacing three to four teeth is best done with a bridge. If you've previously worn dentures or are missing several teeth on the lower or upper jaw, an overdenture or fixed denture supported with implants would be a better option.
Why Replacing Teeth With Implants Matters
Traditional bridges and dentures can fill the empty space left behind after extracting teeth, but they only solve part of the systemic issues you'll eventually encounter. These options only restore your smile and do not work to stimulate the alveolar bone inside your jaw. Without stimulation, this bone will eventually resorb with the rest of the body, causing your jaw to shrink.
Alternatively, bridges and dentures supported with implants stimulate bone, trigger blood flow to the cheeks, and provide a much stronger foundation for your restorations. If you disliked how your dentures shifted around while in use, implants are an ideal solution. Bridges prevent neighboring teeth from shifting, but they often don't last as long as implants.
Overall, you're doing your oral and overall health a big favor by choosing to replace teeth via dental implants in Jacksonville. Schedule your consultation today!
About the Authors
Dr. Ryan Johnson and Dr. William D. Baxter can perform your dental implant treatment entirely in-office. That means greater convenience to you and a more consolidated treatment plan between dental professionals. To learn more about their tooth replacement solutions, you can contact them through their website.
Comments Off

on Dentist Highlights Multiple Tooth Replacement in Jacksonville
No Comments
No comments yet.
RSS feed for comments on this post.
Sorry, the comment form is closed at this time.