April 5, 2020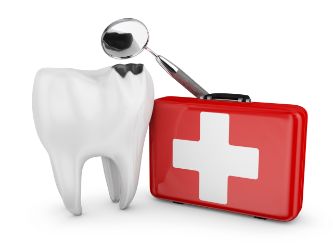 Although there's never an ideal time to deal with a dental emergency, that's never been more true than right now during the COVID-19 pandemic. Instead of immediately going to the hospital, you should always call an emergency dentist first, most of which are still open for emergency care. Avoiding a trip to the hospital (unless truly necessary) reduces your chance of being exposed to the virus, saves critical medical supplies, and lowers the strain on overworked nurses and doctors. Not to mention that dentists have specialized training and equipment to treat emergencies anyway! Keep reading to learn more and get some great tips for preventing sudden dental problems altogether.
During the COVID-19 Pandemic, Should You See an Emergency Dentist or Go To the Hospital?
Although there are rare situations that require medical treatment (more on that below), it's important to start by calling an emergency dentist first to get advice for your specific situation. They'll give you first-aid tips over the phone and either schedule the first available appointment or let you know if you should go to the ER or urgent care center.
Here are some common examples of the types of emergencies that need medical treatment:
A broken or dislocated jaw
Severe cuts that may need stitches
Bleeding that doesn't stop, even after applying pressure for 15 minutes
Easy Ways To Prevent Dental Emergencies
Although you can't always avoid a dental emergency, there are ways to lower your risk:
To prevent cavities, toothaches, and gum problems, brush for at least two minutes twice a day and floss once.
If necessary, wear a custom-made nightguard to prevent nighttime clenching and grinding from chipping or fracturing your teeth.
If you engage in any contact sports or recreational activities like mountain biking, wear a custom-made athletic guard. This not only prevents serious injuries like knocked-out teeth but can also lessen the severity of a concussion.
Don't chew on ice or open packages with your teeth.
In addition, don't forget to schedule a checkup and cleaning when dentists reopen for routine care. These preventive visits ensure that any problems are found early on before they turn into a painful emergency.
Self-isolating at home has been difficult for everyone and makes it feel even harder to handle a dental emergency. By calling a dentist right away, you'll protect your oral health, save yourself a trip to the hospital, and ultimately lower your risk of getting COVID-19.
About the Author
Dr. Ryan Johnson is a general and emergency dentist who is passionate about providing his community with outstanding dental care. He makes every effort to see his emergency patients on the same day they call and is still open for emergency care during the COVID-19 pandemic. If you think you're having a dental emergency or have any questions, you can contact him via his website.
Comments Off

on Dental Pain In Quarantine? Call an Emergency Dentist Instead of Going to the ER!
No Comments
No comments yet.
RSS feed for comments on this post.
Sorry, the comment form is closed at this time.