January 7, 2020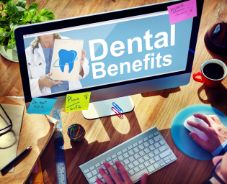 Most dental insurance plans begin on January 1st, which is when the annual maximum (the amount of money insurance will pay for your dental work) "re-sets." This amount is typically between $750 and $1,500 per person, but anything that isn't used by December 31st is simply lost. And while it may seem like you have plenty of time in the year to schedule your dental work, but you would be surprised at how many people put it off until it's too late. In fact, that accounts for billions of dollars that are lost each year in unused dental insurance benefits! This year, you can take advantage of your insurance and improve your oral health affordably, but it's important to schedule early on. Keep reading to get an idea of what your insurance covers and which procedures you may want to schedule. With this information, you'll keep your smile (and your wallet) a lot happier in 2020!
What Does Dental Insurance Cover?
Dental insurance plans can vary quite a bit, so be sure to check your specific benefits. However, here's a general idea of how common services are often covered:
Preventive services – Many plans cover checkups and cleanings at 80%-100%.
Minor dental work – This includes procedures like fillings and extractions, which are often covered at 60% – 80%.
Major dental work – Major dental work such as crowns, bridges, and root canals are usually covered at 50% – 70%.
What Services Should You Schedule?
Depending on your individual needs, any of the following procedures can make a big difference in your oral health:
Checkups and cleanings – Hands down, checkups and cleanings are one of the best ways to prevent major dental problems. In fact, that's why insurance companies cover them at or close to 100%. They know that people who get preventive care need less major dental work than those who don't! When a dentist sees you twice a year, they find any issues early on, which helps you avoid severe cavities, painful emergencies and gum disease.
An Invisalign consultation – Some insurance plans also cover orthodontic treatment, which usually applies to both traditional braces and Invisalign. If you've always wanted straight teeth and an aligned bite, scheduling an Invisalign consultation is a great first step. Afterward, a dentist can tell you if you have coverage or not and give you an estimate of cost.
Unfinished treatment – If you have treatment that needs to be completed, this is a great time to schedule it because you have your entire annual maximum at your disposal.
If you have dental insurance benefits, you may as well use them. By scheduling your appointments early on, you'll make sure they don't go to waste!
About the Author
Dr. Ryan Johnson is a family dentist who is dedicated to helping his patients achieve great oral health. To make it more affordable, his office is in-network with several insurance carriers and is always happy to help their patients get the most from their benefits. If you'd like to know more or have any questions, you can reach him via his website.
Comments Off

on Dental Insurance Benefits Just Renewed! It's a Great Time To See a Dentist
No Comments
No comments yet.
RSS feed for comments on this post.
Sorry, the comment form is closed at this time.