October 17, 2016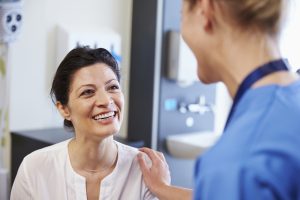 If you have a tooth that has been severely damaged or decayed, chances are you need a dental crown. In the past, the process to receive a dental crown was quite the hassle. You would have to undergo multiple appointments and certain inconveniences that made many dread the process. However, now you can get the crown you need in just one day. As your dentist in Northside Jacksonville, FL, we strive to provide comfortable and convenient care to our patients. To help fulfill our mission, we offer CEREC technology. Now, you will undergo the entire dental crown process in just one day.

Why Choose CEREC Technology?
CEREC technology simplifies the entire process to receive a dental crown in every aspect. Your tooth will be prepared just as it would be prepared with a traditional dental crown. However, after your tooth has been prepared, we do not use impressions. With traditional crowns, messy and uncomfortable impressions are needed in order to create the crown. But, not with CEREC. Instead, we use 3D scans to create your crown. As a result, you no longer have to deal with messy impressions. This is also the perfect option for those who have severely damaged teeth that cannot withstand traditional impressions.
After we have taken the scans, we then send the information to our CAD/CAM software. In the past, your impressions would have to be sent to an offsite lab, requiring you to wear a temporary crown. After your new crown was made, you would have to come in for a second appointment to have the permanent crown attached. Not with CEREC.
We use the CAD/CAM software right in our office. We will input the exact specifications of your crown into the software to ensure your crown meets size, shape and color needs. Then, we send this information to our in-office milling machine—not to an offsite lab.
Our milling machine creates your custom crown from a single block of ceramic material. This provides you with a natural-looking restoration that is strong, durable, and reliable. In less than an hour, your new crown will be finished and ready to be bonded to your tooth. There is no need for a temporary crown or to come in for a second appointment. In just one day, you will have your custom-made restoration so you can walk out with a complete smile.
Using the best dental advancements, your restoration will look, fit and feel like a natural tooth. With CEREC in Jacksonville, FL, you will enjoy the benefits and conveniences of the most advanced dental technology.
Your Dentist for CEREC Crowns
We understand that your time is valuable, which is why we strive to make dental care as convenient as possible. With the use of CEREC, we are able to decrease the amount of time you have to spend in our office without compromising the quality of results or care.
If you are ready to benefit from the best dental advancements with CEREC, contact our office to schedule an appointment.
Comments Off

on Your Same-Day Dentist in Northside Jacksonville, FL
No Comments
No comments yet.
RSS feed for comments on this post.
Sorry, the comment form is closed at this time.