December 20, 2021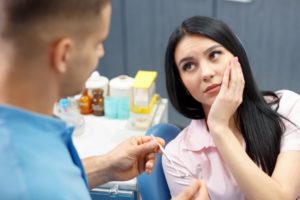 Even if you take great care of your teeth, there's still a chance that a dental emergency could suddenly strike and bring the rest of your day's plans to a screeching halt. In the frantic rush of calling your dentist and getting to their office as soon as possible, you might not even consider the cost of your treatment until you're sitting in the treatment room. Stressing about money is the last thing you need to do in a dental emergency. Chances are that if you have dental insurance, your care will be partially covered. Keep reading to learn how much!
But First, What Counts as a Dental Emergency?
There are countless possible dental emergencies, but they all have one thing in common: a problem in the mouth that needs urgent treatment. More often than not, they're also painful. However, it can be difficult to tell when you have a "real" emergency on your hands. While a knocked-out tooth is obviously urgent, some situations aren't so clear.
As a rule of thumb, you should call an emergency dentist as soon as you experience oral discomfort that distracts you from your ordinary activities or thoughts. The problem might get worse without treatment.
Are Dental Emergencies Covered by Dental Insurance?
Although every dental insurance plan is different, most of them follow a similar framework in terms of which services qualify for coverage. This is called the 100-80-50 model, which looks like this:
Preventive care, including cleanings and checkups, is 100% covered.
Basic treatments such as fillings are covered at 70-80%.
Major procedures like crowns and root canals are 40-50% covered.
The degree to which your insurance will cover your care depends on the specific treatments required to repair your smile. Additionally, many dental insurance plans fully or mostly will cover one emergency exam per year if needed, which can bring down your total treatment costs. It's also important to consider whether you've met your deductible for the year and how much coverage you have left on your annual maximum.
Other Ways to Save on Emergency Dental Care
You might be tempted to head to the closest emergency room for urgent dental care, but this could cost you precious time and money. ER doctors are generally not equipped to address specific dental issues, while dentists are. Calling your dentist first thing can help you get the specialized care you need right away. Also, the ER won't accept your dental insurance benefits, while your dentist will.
In addition to dental insurance, many dentists offer in-house financing through companies like CareCredit. These payment plans often come at little to no interest, helping you comfortably fit the price of your care into your budget.
When a dental emergency occurs, your sole focus should be on getting the care you need. Don't let worries about treatment costs deter you. Your dentist's team is there to make repairing your smile easy and affordable!
About the Practice
At North Jacksonville Complete Dentistry, we provide same-day care for patients experiencing dental emergencies. We'll also file your dental insurance claims as a courtesy to you, and we're in-network providers for many of the leading plans, including Delta Dental and Cigna. If you have questions or need urgent dental care, you can reach us through our website and by calling us at (904) 751-4958.
Comments Off

on Will My Insurance Cover a Dental Emergency?
No Comments
No comments yet.
RSS feed for comments on this post.
Sorry, the comment form is closed at this time.