May 20, 2020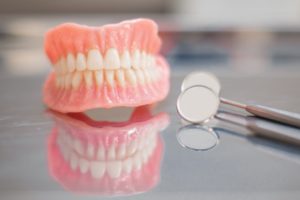 Do you have a damaged denture that's causing sores in your mouth or making it difficult to chew your food? Although this doesn't sound like an urgent issue, without the proper care, it can cause serious problems down the road. That's why you should always contact your dentist as soon as you notice your restoration is broken or isn't functioning properly. Read on to learn what you should do if this happens to you.
Signs of a Damaged Denture
Sometimes dentures don't look visibly damaged, but you may experience symptoms that can signal that you need to have them either repaired or adjusted. Knowing what issues to look out for will allow you to speak with your dentist as soon as the problem arises, keeping it from getting any worse. Here are some signs of damaged dentures:
Visible chips or cracks
Changes in the fit of your denture
Discomfort while biting or chewing
Sores on your gums or oral tissues
Developing a speech issue
Changed in the color of your denture
Home Care Tips For Damaged Dentures
It's important to never attempt to fix your dentures at home, because that could end up costing you more down the road. After you call your dentist to schedule a denture repair, be sure to follow these basic at-home care tips:
Gather any part of your denture that has broken off and bring it into our office.
If the clasps are loose, you can place dental wax on the wire to temporarily stop any irritation.
Don't wear damaged dentures. Be sure to take them out of your mouth, rinse them, and place them in a sealable container of room temperature water while you're on your way to our office.
If you have any questions about how to handle the situation, your team of dental professionals can help guide you and address your concerns over the phone.
The Importance of Contacting Your Dentist Right Away
Although it may be tempting to try to fix your restorations at home or put off visiting your dentist, this will only have a negative affect on your oral health. That's why it's important to contact their office as soon as you notice any symptoms that are out of the ordinary. When you get to their office, they'll examine your gums and your dentures and determine the best way to repair them. Some situations that only caused your dentures to sustain minor damage may only require a quick repair or readjustment, while others may need to be replaced.
As long as you know what signs to keep an eye out for, you'll be able to immediately address the situation and prevent your mouth or remaining teeth from sustaining even more damage.
About the Author
Dr. William Baxter has been practicing dentistry for over two decades. He is passionate about helping his patients regain the function of their smile by offering high-quality and natural-looking restorations such as dentures. His practice has now reopened and is offering all of their dental services, including preventive and restorative care. For questions or to schedule an appointment to get a damaged restoration fixed, visit North Jacksonville Complete Dentistry's website or call 904-751-4958.
Comments Off

on What Should You Do If You Damaged Your Denture?
No Comments
No comments yet.
RSS feed for comments on this post.
Sorry, the comment form is closed at this time.