October 6, 2022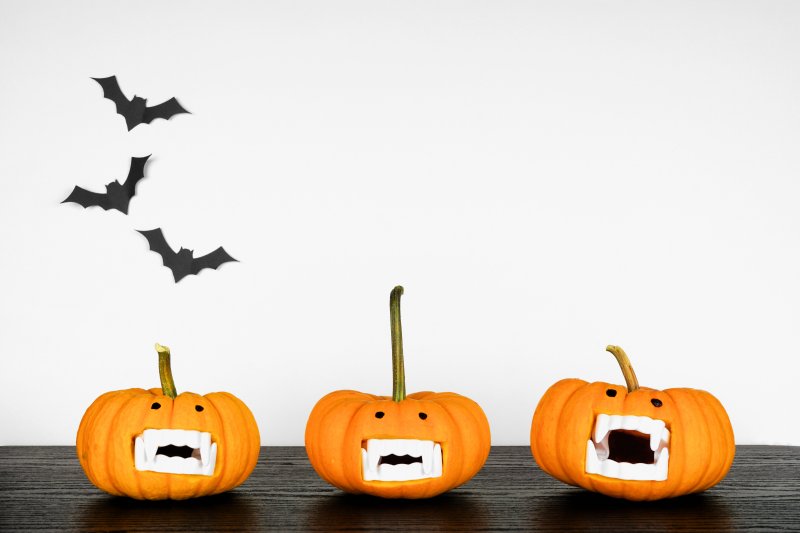 Witches flying! Ghosts a-haunting! Fairies fluttering! Halloween is an exciting time to decorate, dress up, and devour treats. However, trick-or-treat candy can give our oral health a scary time. Sugar from candy fuels cavity-causing bacteria in your mouth, which puts you at a higher risk of gum disease and tooth decay. But with these helpful tips from your local dentist, you and your family can still enjoy all that Halloween has to offer without the scary cavities!
Tip 1: Eat Candy With (Or Shortly After) A Meal
Did you know that saliva production increases while eating meals? Saliva is wonderful for your toothy grin because it rinses that bacteria and sugar away, which was mentioned earlier.
Also, the amount of time sugary food is in your mouth affects your risk of tooth decay. Try to limit snacking on candy and stick with eating it in close timing with a meal. Be sure to drink plenty of water as well! It's perfect for washing away leftover particles r from your mouth.
If you are a chocolate lover, you'll be pleased to learn it is one of the more teeth-friendly candies to eat on Halloween. Unlike sour, sticky, and hard candies that cling to your teeth and can damage your enamel, chocolate is easy to wash off. If you like the darker variety, this is even better because it contains less sugar. While you may be tempted to reach for that bag of colorful, chewy candies, go ahead and swap it out for a small piece of chocolate.
Tip 3: Consider Setting a Limit
Before trick-or-treating creeps up, set a limit on the number of treats you and your family can have daily. This approach will prevent the habit of eating a handful of candy whenever it is convenient. You may also pick out a certain number of your favorite treats and throw out the rest. You can exchange the rest of the candy for a fun toy for your little ones!
Tip 4: Keep Up Your Oral Routine
Although late nights may occur, it is important to stick with brushing your teeth for two full minutes, flossing, and rinsing with mouthwash. These great habits ensure your teeth and gums are better protected and free of any bacteria and harmful acids that might try to damage your smile.
Don't let sugary Halloween candy haunt your oral health! With these helpful tips, you and your family can enjoy the season without fear of cavities.
About the Author
Dr. Tim Bradberry comes from a dental family who has served Jacksonville and the surrounding communities for over 25 years. He earned his Doctorate of Medicine Dentistry from the LECOM School of Dental Medicine and provides preventive, restorative, and aesthetic services. His passion is to help every patient enjoy a bright and healthy smile during every season. To schedule an appointment for your long-lasting, glowing grin, contact his website or call (904) 549-6979.
Comments Off

on Hocus Pocus! 4 Magical Tips for a Healthy Halloween Smile
No Comments
No comments yet.
RSS feed for comments on this post.
Sorry, the comment form is closed at this time.