July 26, 2019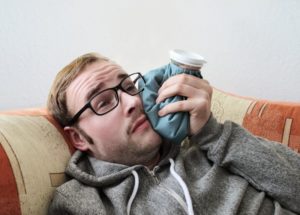 Do you have an appointment to get a damaged or impacted tooth removed? There's no need to worry, with the right advice, you can make your healing time a breeze. Whether you're getting your wisdom teeth removed or a severely decayed tooth, this procedure can help reduce your risk of infection and save your oral health. If you're well-prepared to take care of yourself, you'll have less to worry about after your procedure and will be able to relax. So, save yourself the hassle of a long healing time and follow these tips for a fast tooth extraction recovery.
Stick to Eating Soft Foods
Your dentist will place gauze pads in your mouth to help your blood clot at the healing site. Once it has, be sure to drink plenty of lukewarm water and cold fluids to keep yourself hydrated. You'll most likely be hungry after your extraction, so be sure to have some meals that include only soft foods prepared ahead of time. Some great soft snacks to eat while your gums are healing include puddings, Jell-O, eggs, mashed potatoes, and oatmeal. Shakes are also a great, filling option to prepare in advance if you have a blender. Try not to drink any carbonated drinks or eat foods that can get lodged in your socket.
Manage Your Pain Effectively
If your dentist prescribes pain medication and antibiotics to help ward off infection, be sure to take them routinely as directed. For any questions about how the medicine works and some side-effects, be sure to speak with your dental professional or pharmacist.
Adopt a Gentle Oral Hygiene Routine
It's vital to take proper care of your mouth after your procedure so you don't invite an infection. This includes brushing frequently, (maybe even more than you normally would) and flossing regularly to keep the extraction site clean and free of harmful oral bacteria. Just be sure to be gentle while during your oral hygiene routine. Additionally, don't be tempted to rinse out your mouth for the first 24 hours after your procedure so your sockets have a chance to heal and you avoid damaging the blood clot. For any more helpful aftercare instructions, don't hesitate to call up your dental professional.
Fight Off Swelling With a Cold Compress
To prevent swelling, be sure to routinely and intermittently apply an ice pack to the outside of your cheek for 20 minutes on and 20 minutes off. You can continue this for two days to help combat swelling, bruising, and general oral discomfort. If your tooth was infected before the procedure, your dentist may instruct you to use a warm, wet compress instead of an icepack.
Follow these tips to increase your comfort after your procedure and have a fast recovery. Being prepared can help reduce your risk of infection and decrease your stress levels, and who wouldn't want that? Remember that if you have any questions or are in severe discomfort afterward, don't hesitate to contact your dentist immediately.
About the Author
Dr. Ryan Johnson loves helping and giving back to his community so much that he decided to become a dentist. He is passionate about forging strong, long-lasting relationships with his patients. He also focuses on providing individualized and trustworthy treatment to everybody that walks through his doors. For questions or to schedule an appointment, visit North Jacksonville Complete Dentistry's website or contact 904-751-4958.
Comments Off

on Tips for a Speedy Tooth Extraction Recovery
No Comments
No comments yet.
RSS feed for comments on this post.
Sorry, the comment form is closed at this time.