September 28, 2022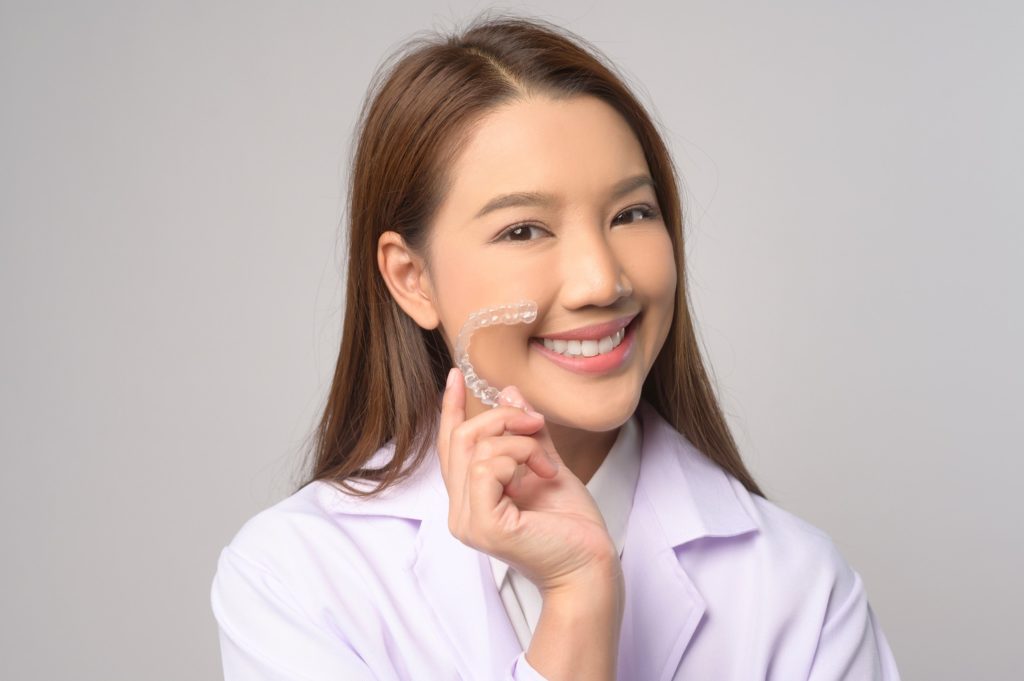 Do you want to straighten your teeth without the metal? Who wouldn't! With Invisalign, patients can discreetly achieve the smiles of their dreams without the brackets, complicated oral hygiene regimens, and dietary restrictions. Of course, there are still a few things you should know before committing to treatment. To learn what they are, keep reading.
1. Your Teeth May Need to Be Slightly Shaved
Despite being around since the 1940s, many patients haven't heard of interproximal reduction (IPR). Often used for patients struggling with overcrowding, this allows your dentist to carefully remove a small part of your enamel where your teeth meet. Although there likely won't be a noticeable gap, this minor change is enough to help your teeth effectively move into their desired positions.
2. The 22-Hour-a-Day Wear Time Is a Must
When patients hear that the aligners are removable, they often think that they can take them out as they please. In reality, the trays only work while you're wearing them, which is why the 22-hour-a-day wear time is a must. Consistently neglecting to meet this requirement can cause you to fall off-track with your treatment plan, increasing your chances of needing to invest more time and money to get the results you desire.
3. You May Want to Take a Break from Lipstick
Are you a huge fan of lipstick? Whether you love bright, bold colors or subtle, nude shades, you might want to take a break during your Invisalign treatment. Mainly because the color can smear onto your aligners, causing your teeth and trays to discolor. So, opt for a clear lip balm instead (preferably one with SPF!).
4. You Need to Brush and Floss After Each Meal
In short, your smile won't look as beautiful with brittle, stained teeth. So, it's important to care for them properly! To help prevent decay and infection, you should brush and floss your teeth after each meal. To make this process easier, keep a travel-sized toothbrush, toothpaste, and floss with you when you're on the go.
5. Altering Your Diet Can Be Helpful
While there aren't any dietary restrictions with Invisalign, it can still be helpful to change up your diet a bit. For example, you can add a protein shake or smoothie to the end of your meals to bump up the satiety factor, which will help prevent the need for taking your trays out for snacks between meals. You may also want to stock up on soft foods, like yogurt and oatmeal, for the days your teeth feel a bit sore.
6. Any Discomfort You Experience Will Be Short-Lived
Of course, Invisalign (like every orthodontic treatment) comes with some discomfort. The good news is that any soreness you do experience will be short-lived. Plus, you can easily alleviate your symptoms with a cold compress or an over-the-counter pain reliever.
Now you know a bit more about life with Invisalign! To learn more about the treatment process, get in touch with your dental team.
About the Practice
A top-rated dental office in Jacksonville, our team at North Jacksonville Complete Dentistry loves helping our patients smile. From routine checkups to Invisalign, we're here to make that happen! So, if you have a question about Invisalign or would like to schedule a consultation to see if you're a candidate, don't hesitate to visit our website or call (904) 751-4958.
Comments Off

on 6 Things You Should Know Before Getting Invisalign
No Comments
No comments yet.
RSS feed for comments on this post.
Sorry, the comment form is closed at this time.