December 15, 2016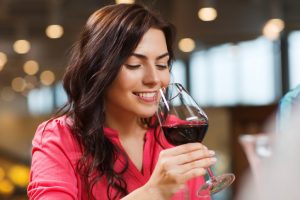 The color of your teeth says a lot about you. It's probably one of the first things people notice, and can be very important to their first impression of you. People with beautiful white teeth are often thought of as more attractive, intelligent, and professional, so no wonder people want them to be white all the time. However, it can be difficult to keep them sparkling as the years go by, and this often can be because of the foods you eat. Here are the top 5 foods that can cause stains and make you need to get teeth-whitening in Jacksonville, FL.
1. Coffee
Yes, the first item on this list is also the first thing many people have in the morning. Coffee has a substance called chromogens, which is what gives coffee its dark color, which in turn can stain your teeth. Coffee can also be acidic, which can break down your enamel and make your teeth look discolored.
2. Wine
While many people know that red wine can stain their teeth, white wine is actually the worst offender. This is because white wine is actually more acidic than red wine. This damages your teeth and reveals the layer of dentin underneath the enamel, which is naturally yellow.
3. Pasta Sauce
Specifically, we mean a bright red, tomato-based pasta sauce. It can also be acidic and can even cling to your teeth. Your teeth are actually porous, so the sauce is actually able to get inside the enamel and create deep, ground-in stains that you can't simply brush off.
4. Berries
Dark colored berries such as blueberries, cranberries, and raspberries can also stain your teeth. They may be a healthy snack and be packed with antioxidants, but limit your intake if you want your teeth to stay white. That includes juices and jams as well.
5. Balsamic Vinegar
If you frequently use balsamic vinegar to add flavor to your salad, you might be darkening your teeth. The vinegar itself is naturally dark and can stick to your teeth, so maybe go light on it the next time you use it.
What Can You Do About It?
Of course, if you want to still enjoy these foods, or already have stained teeth, you need to do something. One of the best ways you can improve the color of your teeth is by visiting your cosmetic dentist in North Jacksonville, FL. There you can get teeth-whitening. It uses a powerful bleaching gel along with a concentrated laser light to whiten your teeth extremely fast. Most treatments last about an hour and can make your teeth look 6-10 shades whiter in one visit.
We can also help you whiten your teeth on your own schedule. We can provide you with a custom made mouth tray and the bleaching gel so you can whiten at home. You just need to wear the tray with the gel for two weeks to get the full results. You can even use the kit to give your in-office treatment the occasional touch-up. Results can last for months with routine brushing and flossing.
Any Questions?
If you want to keep your teeth as white as possible, try to moderate your intake of these foods. And when your teeth start looking a little dull, come visit your cosmetic dentist in Jacksonville, FL to help get them back to their original whiteness.
If you have any questions about what else you can do to improve the color of your smile, please give us a call today.
Comments Off

on 5 Reasons Why You Need Teeth-Whitening in Jacksonville, FL
No Comments
No comments yet.
RSS feed for comments on this post.
Sorry, the comment form is closed at this time.