October 28, 2017
If you've watched television in the last several years, you can probably list a dozen commercials that describe an over the counter teeth whitening product. A trip to the oral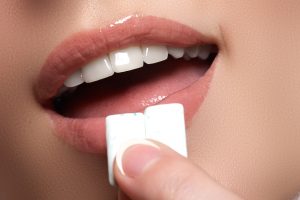 hygiene aisle at your local pharmacy will also reveal a wide range of teeth whitening toothpaste, mouthwashes, strips, and gels. While these products promise dramatic results, they are often unable to deliver on these promises. Teeth whitening gum may be the exception that makes the rule when it comes to the efficacy of store bought teeth whitening products. Keep reading to learn more about whitening gum. If teeth whitening gum isn't doing the trick, you can also consider cosmetic dentistry solutions to brighten, straighten, or otherwise perfect your smile.

Benefits of Chewing Gum for Oral Health
Teeth whitening gum may be effective in removing some surface level tooth stains. If you eat or drink dark colored foods or beverages, chewing sugar free gum after your meal can decrease your risk of staining and discoloration caused when the porous tooth surface absorbs the dark pigments. Additionally, chewing sugar free gum, especially those that contain xylitol, can also decrease your risk of tooth decay and dental wear that thins tooth enamel revealing the yellow colored dentin layer of the tooth.
Chewing Gum to Reduce Sensitivity After Teeth Whitening
If simply chewing a whitening gum isn't improving the shade of your teeth, you may want to consider professional teeth whitening. Most dentists offer both in-office and at-home teeth whitening services to deliver your desired whitening results. In most cases, patients can achieve a smile up to ten shades brighter. Unlike store bought teeth whitening products, professional teeth whitening plans include higher doses of active whitening agents. Additionally, the professional teeth whitening plans include customized application methods. In-office teeth whitening is completed entirely under the supervision of a skilled cosmetic dentist, so patients know they will receive predictable results up to ten shades brighter. At-home whitening kits use a custom crafted tray to apply the teeth whitening gel, and with about two weeks of daily applications, patients achieve the same results possible with in-office treatment. Unfortunately, many patients experience tooth sensitivity following teeth whitening, but studies indicate that chewing sugar free gum with xylitol can actually diminish dental sensitivity following teeth whitening.
Meet the North Jacksonville Complete Dentistry Team
At North Jacksonville Complete Dentistry, we're happy to help patients achieve all of their cosmetic dentistry results. If you have questions or want to learn more about our wide variety of dental services, contact our caring team today. We offer a wide range of dental services to help patients achieve and maintain their healthiest smiles. If you're interested in finding out more about the dental services we offer in our Jacksonville dental office, read our informative dentistry blog regularly.
Comments Off

on Does Teeth Whitening Gum Work?
No Comments
No comments yet.
RSS feed for comments on this post.
Sorry, the comment form is closed at this time.