April 9, 2019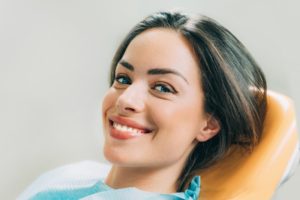 April is Oral Cancer Awareness Month, which is an effort to raise awareness on the importance of routine oral cancer screenings with your dentist. While the cases of oral cancer continue to increase, thankfully, it is one of the most treatable cancers. Especially if caught early on, you have a good chance at a full recovery. That's why oral cancer screenings are so important. Keep reading to learn more about oral cancer screenings, how often you should get them, and what you can expect during an examination.
What is an Oral Cancer Screening?
Dentists alone catch 84% of oral cancers early on, giving their patients the ability to seek treatment immediately to ensure their health. Oral cancer screenings only last a matter of minutes during your routine dental checkup, so it's possible you may have had one without even knowing it. Your screening will consist of a noninvasive, visual and physical exam to check for these symptoms:
White or red patches in your mouth
Lumps, bumps, or growths
Difficulty or pain swallowing
Sores that won't heal
Pain in your mouth
Pain in your ears
Changes in color of soft tissue
What Occurs During an Oral Cancer Screening?
During your oral cancer screening, your dentist will visually and physically examine your mouth, head, neck, gums, tongue. Cheeks, throat, and any other related areas for irregularities or warning signs. After, they may feel around your jawbone and lymph nodes to ensure there aren't any lumps or growths to be concerned about. If they do spot any areas that could tip off cancer, they might order a biopsy or additional tests for further investigation. Your dentist never wants to find cancer, but early detection is your first step towards a full recovery.
How Often Should I Receive an Oral Cancer Screening?
Your dentist will perform an oral cancer screening at each or every other one of your biannual dental checkups. You may be more susceptible to oral cancer if you:
Smoke or use tobacco routinely
Heavily consume alcohol
Have a family history of oral cancer
Have had prolonged exposure to sunlight.
If you have any of these risk factors, your dentist may decide that an oral cancer screening every 6 months is necessary. This service is of no extra cost and is included in your routine dental checkup.
Now that you know more about oral cancer, contact your dentist to screen for cancer during this month of awareness and for the rest of your life!
About the Practice
Dr. Johnson and Dr. Baxter are a team of dentists who make your experience at North Jacksonville Complete Dentistry truly exceptional. They provide in-depth oral cancer screenings to ensure their patients' oral and overall health and they're experienced at detecting warning signs. For any questions, they can be reached through their website or by phone at (904) 751-4958.
Comments Off

on Oral Cancer Awareness Month: Another Reason to Visit Your Dentist
No Comments
No comments yet.
RSS feed for comments on this post.
Sorry, the comment form is closed at this time.