October 14, 2021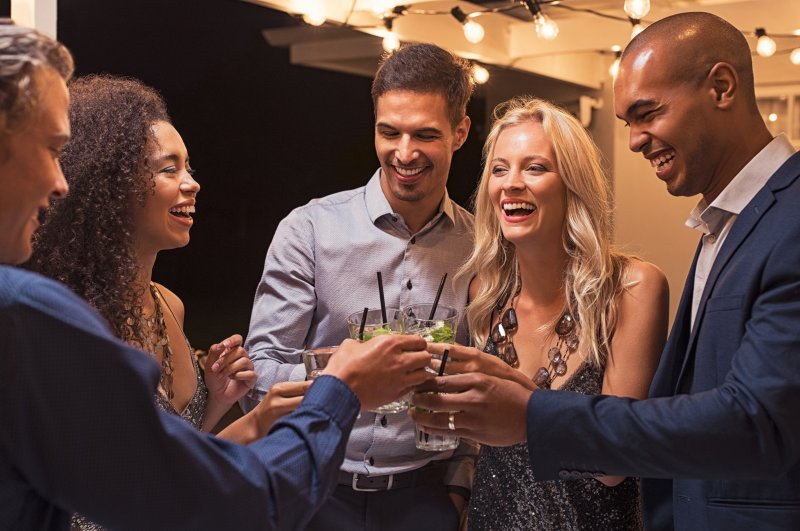 A lot of New Year's resolutions revolve around becoming healthier or wealthier, but have you ever considered making one revolving around your oral care? This could be a win-win for both your overall wellbeing and your wallet! The best way to solve dental issues is to avoid them in the first place, so here are four New Year's resolutions for a healthy smile.
Resolution #1: Brush Better
Make a point of brushing your teeth for two minutes twice per day and flossing once. Use a fluorinated toothpaste and position the toothbrush bristles at a 45-degree angle toward the gumline. Replace toothbrushes every three to four months as recommended by the American Dental Association or after you get over an illness to avoid reinfecting yourself. If it's been more than 6 months since you last visited the dentist, make an appointment for a dental exam and to have your teeth cleaned. Keeping your teeth clean will give you fresher breath and help keep oral health issues from developing.
Resolution #2: Say "No" to Tobacco
Stop smoking or using other tobacco products to lessen your chances of developing gum disease and other oral health issues. This will also have a positive impact on your overall health and lessen your chances of developing several different kinds of cancer. Consider joining a free online program, using a progress app, or attending a support group to help make saying "no" easier to do.
Resolution #3: Brighten Your Smile
There are several ways to brighten up your smile such as cutting back on your consumption of wine, coffee, tea, cola, and other dark or highly pigmented foods and drinks. Schedule an appointment with your dentist to have your teeth whitened or ask them if veneers would be a good choice for your smile.
Resolution #4: Fight Back Against Dry Mouth
Saliva plays a vital part in maintaining the health of the mouth. It helps protect against gum disease and washes away food debris. Saliva also prevents a prolonged acid attack on tooth enamel by balancing out the pH levels in the mouth. Additionally, it contains antimicrobial agents that help combat the bad bacteria that causes cavities to form. Some steps you can take to reduce dry mouth include:
Promote saliva production by chewing sugar-free gum and drinking or eating dairy products
Drink alcohol in moderation to cut back on dry mouth
Ask your dentist if any medications you take may be decreasing saliva production
Drink plenty of water to keep your mouth well moisturized
It's important to make your New Year's resolutions more attainable by taking baby steps to achieve them. This will help keep you motivated, therefore putting the smile of your dreams within reach!
About the Practice
Led by Dr. Tim Bradberry, North Jacksonville Complete Dentistry offers both their new patients and existing ones an array of comprehensive oral health services. They treat both adults and children using advanced techniques and amenities that will make you feel safe and comfortable throughout your treatment. Their friendly team aims to help you achieve the smile of your dreams and will do what they can to assist you in keeping your New Year's dental resolutions on track. For more information on maintaining a healthy smile or to schedule an appointment, call their office at (904) 751-4958 or visit their website.
Comments Off

on 4 New Year's Resolutions for a Healthy Smile
No Comments
No comments yet.
RSS feed for comments on this post.
Sorry, the comment form is closed at this time.