March 6, 2022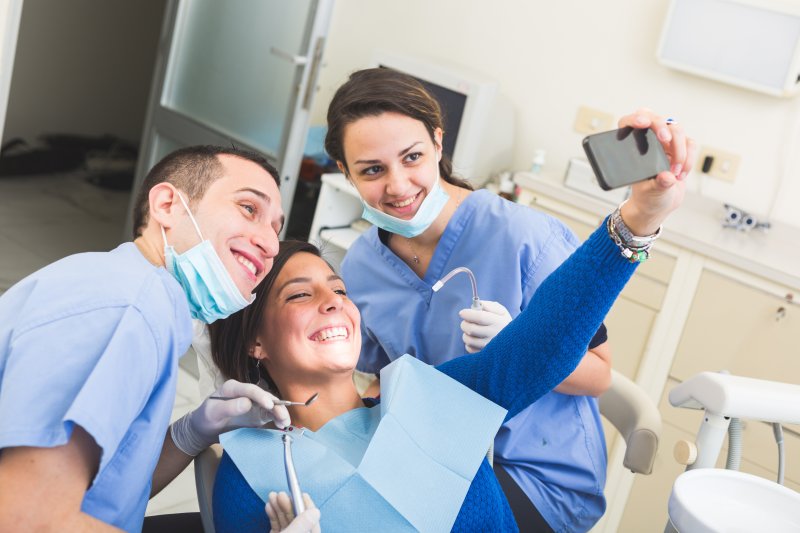 One of the most important aspects for overall great health is your smile. Not only will having a great smile make you feel amazing, but you'll also help prevent bacteria and other issues from developing. For this reason, your dentist works extra hard to keep your pearly whites fresh and clean! March 6th is National Dentist's Day, and here's how and why you should celebrate.
What is National Dentist's Day?
The first records of dentistry date back to ancient Egypt, around 2600 BCE. Over the ages, the medical practice has undergone many changes and improvements, all to evolve into the procedures we see today. Modern dentists continue to improve the technology and techniques to provide the highest-quality of dental treatments, and National Dentist's Day is a time to celebrate their ongoing service to the community!
Why Should I Celebrate National Dentist's Day?
If you've ever had a toothache, or even needing something as crucial as a dental implant, then you know how hard your dentist worked to ensure your smile was taken care of. In addition to all the treatments they provide to keep our teeth healthy and clean, they even often pursue continued education after they complete their dental degree to stay up-to-date on the newest procedures. With their years of study and professional practice, they are there to care for your teeth from childhood to adulthood.
How Do I Celebrate National Dentist's Day?
To celebrate this day, there are a few simple things you can try that both help your dental health and say "thank you" to your dentist. A few steps include:
Keeping a good dental hygiene: One way to show your dentist you appreciate them is to maintain clean and healthy teeth at home. With proper daily self-care, you can ensure your dental health is top-notch by the time you visit your doctor again. In this way, you can give them a simple job to do that day, and you'll help yourself in the long run!
Treat yourself to whitening treatments: Since you're celebrating, you can get a tooth whitening kit or treatment to enhance your pearly whites. You'll enjoy a smile you can be proud to show off, and your dentist will appreciate the praise from your obvious excitement.
Visit your dentist: You can schedule a dental appointment and speak with your dentist. Giving them a thank you card in person would be a great gesture—and you can get a thorough checkup in the process.
Your dentist is dedicated to giving you the best dental care, and National Dentist's Day is the perfect time to show them thanks!
About the Practice
North Jacksonville Complete Dentistry offers outstanding and passionate dental services for Jacksonville, FL and the surrounding communities. With their two dentists—Drs. Bradberry and Baxter—you can be sure to receive advanced treatments for your dental needs. If you want to say hello or thank your dentist, feel free to visit their website or call them at 904-751-4958.
Comments Off

on National Dentist's Day: Why and How Should I Celebrate?
No Comments
No comments yet.
RSS feed for comments on this post.
Sorry, the comment form is closed at this time.