January 26, 2021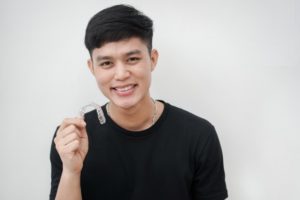 Within the last couple of decades, Invisalign has taken the world by storm. Thanks to its ability to straighten teeth with clear aligners instead of noticeable metal wires and brackets, countless people have chosen Invisalign in North Jacksonville over traditional braces. For many, the discreetness alone is enough to select this treatment. However, there are many benefits of Invisalign that may not be as obvious at first glance. Here are four of them.
Say Goodbye to Uncomfortable Brackets and Wires
Before Invisalign, your only option for correcting crooked teeth was with traditional braces. Brackets were attached to each tooth, with a metal archwire threaded through them to shift your teeth into their desired positions. These brackets can sometimes cut the inside of your mouth, and adjusting braces is usually uncomfortable. Luckily, Invisalign's smooth plastic aligners were made with your comfort in mind.
Stay Confident Throughout the Process
When you're wearing the aligners, no one else should be able to tell. Rather than avoiding smiling or talking out of embarrassment for your mouthful of metal, you can flash your grin confidently during the whole Invisalign treatment process.
Clean Your Teeth Much More Easily
Brushing and flossing with metal braces can be annoying. To clear away food particles and plaque, you may have to invest in special tools like floss threaders and interdental brushes. Even then, bits of food may still get lodged under your braces, increasing your risk for cavities. One of the major benefits of Invisalign is that the trays are fully removable. When it's time to clean your teeth, all you have to do is take your aligners out.
Enjoy All of Your Favorite Foods
Anyone who has had braces knows they have to stop eating certain foods, like popcorn and caramel, to avoid damaging their brackets and wires. Fortunately, Invisalign doesn't restrict your diet at all. You can simply remove your aligners when it's time for a meal or snack. Just remember to brush your teeth before placing your trays back in your mouth.
Are you ready to learn more about all of the ways that Invisalign can improve your life? Then give your dentist a call to get started!
About the Author
Dr. William Baxter is a trusted dentist in North Jacksonville, FL who graduated from the University of Pennsylvania School of Dentistry. At North Jacksonville Complete Dentistry, he and his team continue to provide comprehensive care to patients of all ages in Jacksonville and the surrounding communities. He is able to offer Invisalign as a much more pleasing alternative to metal braces. If you would like to enjoy the benefits of Invisalign for yourself, you can contact his office at (904) 751-4958.
Comments Off

on The Benefits of Invisalign: More Than Meets the Eye
No Comments
No comments yet.
RSS feed for comments on this post.
Sorry, the comment form is closed at this time.