May 3, 2019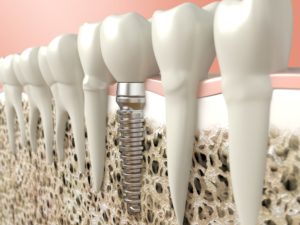 New innovations in dentistry make it easier than ever for your dentist to preserve your natural teeth. Unfortunately, tooth loss is still a prevalent problem. If you are among the 120 million Americans who have lost at least one tooth, your confidence and quality of life have likely declined. Besides an incomplete smile, there is a larger complication brewing beneath the surface. You are slowly losing bone in your jaw, which can result in more tooth loss. Thankfully, you can replace your missing teeth and preserve your jawbone using an effective solution.
Why Am I Losing Bone?
When you lose a tooth, the crown is not the only thing missing. You also lose the root. Your jaw slowly deteriorates in the area because it is no longer stimulated by the root. Although you may think it takes several years for this to occur, you can actually lose as much as 25% of your alveolar bone's width in just the first year. Over time, the bone will continue to decrease in volume, width, and height by as much as 4 millimeters over the next several years.
Why Does Bone Loss Matter?
As you lose your bone, it creates several new complications. Your remaining teeth will not have the support they need to stay in place, so they will drift toward the open space. As they shift out of position, they become harder to clean, which increases your risk of tooth decay and gum disease. You may even develop alignment issues with your bite that can cause jaw pain. It is not uncommon for the adjacent teeth to eventually become loose and fall out. As you lose more teeth, you may have to significantly limit the foods you eat. This can lead to nutritional deficiencies that affect your health.
The more bone and teeth that you lose, the less support you have for your facial muscles. This can lead to premature wrinkles and sagging of your skin. You can appear years older than your true age.
Can I Stop Bone Loss?
There are several solutions to replace missing teeth, but only one treatment can also stop bone loss. Dental implants are the only prosthetic that can replace both the root and the crown of a tooth. A titanium implant post is surgically placed into your jawbone to act as a new root. It stimulates bone growth to preserve your jaw's density. This stops the complications of tooth loss while also allowing you to enjoy a solution that closely mimics your natural teeth.
Save Your Smile Today!
If you have lost bone from untreated missing teeth, you can be a candidate for dental implants. Your implant dentist will create a customized treatment plan, which may include bone grafting, to rebuild a functional, beautiful smile. No matter your needs, they have the solutions for you.
About North Jacksonville Complete Dentistry
North Jacksonville Complete Dentistry uses the latest advancements in dentistry to enhance our patients' quality of life through superior dental care. Dr. Johnson provides multiple innovative solutions to treat tooth loss, including dental implants. If you are missing one or more teeth, he can help. Contact our office today to schedule a consultation.
Comments Off

on Why Do Missing Teeth Cause Bone Loss?
No Comments
No comments yet.
RSS feed for comments on this post.
Sorry, the comment form is closed at this time.