December 17, 2018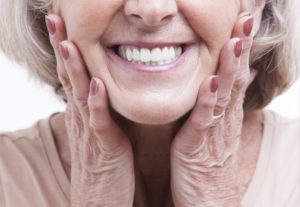 When you think about missing teeth, you probably think about the obvious gap that it leaves in a smile. But what if this cosmetic flaw was the least of your worries? Restoring a missing or broken tooth can not only give you a beautiful smile once more, but it improves your oral and overall health. Keep reading to discover the surprising health benefits of replacing your missing teeth.
#1. Restores the Shape of Your Face
Your tooth roots do a very important job that is rarely talked about: they keep your jaw strong and healthy by providing it stimulation. When you lose teeth and don't replace them, your jaw loses some of the stimulation it needs to thrive. This can cause your jawbone to shrink and deteriorate. As your bone gets smaller and smaller, it will begin to affect the overall health and look of your face.
Thankfully, your dentist offers dental implants to replace teeth. These are small titanium posts that get surgically placed in your jawbone. Because they act as artificial tooth roots, they provide your bone with the stimulation it needs to stay healthy!
#2. Helps You Eat and Chew Properly
A healthy set of teeth allows you to eat a wide-range of foods, giving you a healthier and more balanced diet. If you're missing teeth, you may change what you eat to accommodate for your lack of biting power or different chewing.
Dentures can be used to replace a whole row of teeth, or you can receive a bridge or crown for a few missing teeth. These restorations will restore your chewing ability, allowing for a more varied and beneficial diet.
#3. Prevents Your Teeth from Shifting
Even if you're missing just one tooth, it can cause serious misalignment. Your teeth use each other as supports, so even if a single tooth is gone, it allows the surrounding pearly whites to drift into the gap. This can lead to further bite problems and orthodontic treatment.
Getting a dental implant even if you're missing one tooth can prevent these issues from occurring. The sooner you replace your tooth, the less likely your remaining chompers will want to drift and shift out of place.
#4. Helps You Speak Clearly
Your teeth are one of the main parts of your body that helps you speak. If you lose teeth, your speech can change, or you may develop a lisp. It's surprising what can happen when your smile isn't complete.
Now that you know why it's so important to replace your missing or broken teeth, contact your dentist in North Jacksonville to get started on a healthier smile.
About the Practice
Dr. Ryan Johnson and Dr. William D. Baxter are a team of dentists who love providing quality care to their patients. They take pride in offering various replacement options to restore the full benefits back to your smile. They currently practice at North Jacksonville Complete Dentistry, and they can be contacted through their website or by phone at (904) 751-4958 for any questions.
Comments Off

on Missing Teeth? Replacing Them is More Important Than You Think
No Comments
No comments yet.
RSS feed for comments on this post.
Sorry, the comment form is closed at this time.