March 27, 2020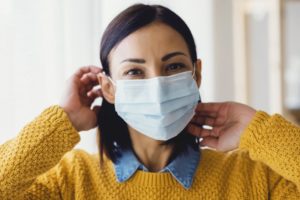 Some symptoms of Coronavirus that have officially been named by the CDC include, fever, cough, and shortness of breath. Even though they seem fairly tame, without the proper daily care and maintenance, this virus that has become a widespread pandemic may also impact the health of your teeth and gums. Read on to learn how to keep your oral health on track if you become infected by COVID-19.
What is COVID-19?
According to the Centers for Disease Control and Prevention, COVID-19, also named as Coronavirus, is a respiratory condition that can easily spread from person-to-person via droplet exposure. For example, if an infected person sneezes and touches the door handle on a public restroom, the next person can come up to open the door and come into contact with the virus. They can get it if they touch their face and it is introduced to their mucous membrane via contact with their eyes, nose, or mouth.
Protecting Yourself From the Virus
Over the last month, the United States has witnessed an incredible surge of infections due to exposure, and also due to the fact that more and more people are able to get tested each day. Although a vaccine hasn't been officially developed yet, there are some prototypes that are undergoing clinical trials in hopes to stop the virus. In the meantime, the CDC states that the best way to protect yourself from this illness is by practicing everyday preventive actions, including:
Avoiding contact with anybody who is known to be sick.
Avoid touching your face with unwashed hands.
Frequently wash your hands throughout the day with soap and water for at least 20 seconds.
Keeping Your Teeth & Gums Healthy If You're Infected
If you are sick, it's important to protect yourself and others by staying home and caring for yourself. Many people aren't aware that common symptoms of illness, such as coughing and fatigue, can eventually impact the health of your teeth and gums if they're left unchecked. Here are some ways you can protect your dental health if you're infected by COVID-19:
Even though you may feel tired and exhausted, continue to brush and floss regularly.
Choose sugar-free cough drops and syrup.
Continuously drink water to avoid dry mouth, which can increase your risk of cavities.
If you begin exhibiting symptoms, try to stay at home whenever possible and wear a facemask to avoid droplet exposure. Before you visit any medical professionals, make sure to call ahead to let them know, so they can have time to protect themselves as well as their other patients.
About the Author
Dr. William Baxter understands that emergencies can occur at any time, which is why he's continuing to treat emergency patients during the COVID-19 pandemic. He has decades of experience under his belt and strives to provide each of his patients with thorough and high-quality dental care that optimizes their oral health, so they can enjoy their natural smile for the rest of their lives. For questions or to schedule an emergency appointment, visit North Jacksonville Complete Dentistry's website or call 904-751-4958.
Comments Off

on Keeping Coronavirus From Affecting Your Oral Health
No Comments
No comments yet.
RSS feed for comments on this post.
Sorry, the comment form is closed at this time.