September 26, 2017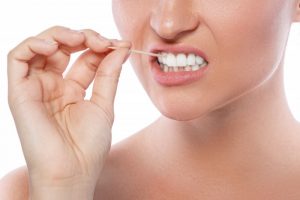 Some of the tastiest treats leave not-so-tasty remains scattered among your teeth. Apples, popcorn, and yummy corn on the cob will leave small particles of food that can decline your oral health if not removed effectively.
When food gets stuck between, the best way to remove it is to brush and floss your teeth. If you don't have access to those tools, a toothpick can be a convenient way to remove particles from being stuck in your smile. Although they are useful if there are no other tools available to you, your dentist in Jacksonville says that you should only use a toothpick if you have no other dental tools available to you.
Toothpicks Can Be Dangerous for Your Teeth
When toothpicks are used correctly, they can be effective in removing stuck food particles in from hard to reach places in your teeth. But, it's still important to understand what you're exposing your smile to. The rough texture of toothpicks can:
Scrape away at the protective layer of your teeth—the tooth enamel.
Traumatize sensitive gum tissues, causing gum recession.
Cause soft tissue injuries like lacerations and bleeding.
Damage exposed teeth roots from existing gum recession.
Toothpicks vs. Dental Floss
Again, toothpicks aren't the absolute worst way to remove dental debris from your mouth, but there are better choices for your smile. If you happen to have food stuck in your teeth at a restaurant, it's not the worst idea to remove it with a toothpick.
If you can, try carrying floss in your purse, wallet, or car for these random cases. This way, you'll always have a safer alternative at your disposable rather than being forced to use a toothpick on your teeth.
Either way, it's important to remove left over food for these reasons:
You can develop chronic bad breath (halitosis).
Plaque and other dental debris will begin to build up.
Tartar can develop if left for too long.
You have a higher chance of developing gum disease.
Meet Your Jacksonville Dentists
As your family dentists, Dr. Johnson and Dr. Baxter, we pride ourselves on delivering comprehensive dental services for all our patients, including emergency services.
Too often, patients put off seeking dental care because they don't realize it's an emergency. Anytime you have something lodged between your teeth and you can't remove it with floss or toothpicks, it's time to reach out to your dentist. Give your dentists at North Jacksonville Complete Dentistry a call by dialing (904) 549-6979.
Comments Off

on Ask Your Jacksonville Dentist, "Floss or Toothpicks?"
No Comments
No comments yet.
RSS feed for comments on this post.
Sorry, the comment form is closed at this time.