July 7, 2020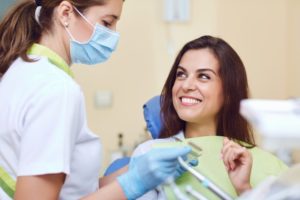 Try as we might, we can't protect our teeth from every chip, crack, or stain they may get. Thankfully, you don't have to live with your dental imperfections if you don't want to! There are a wide variety of cosmetic dentistry options that can help you achieve the flawless smile you've always wanted. The first step on your journey to a better set of pearly whites is a consultation with your Jacksonville dentist. Here are six questions to ask them to make the most out of your initial visit!
1.) What Are My Treatment Options?
There are many more cosmetic dental services available than there used to be. Since options like porcelain veneers and all-ceramic restorations can be used to solve a number of issues, it can be difficult to decide which to choose. You should have some idea of the problems in your smile that you'd like to solve so your dentist can explain all the available solutions.
2.) Am I a Good Candidate for the Procedure(s) I'm Interested In?
Cosmetic dentistry is typically a great choice for anyone who wants to enhance their smile. However, there are certain factors that can influence the success or comfort of your treatment. Your dentist will review your oral health and help you overcome any of these issues to ensure you're a good candidate for the treatment you want.
3.) What Are the Pros & Cons of the Service(s) I've Chosen?
While you can rest assured that every cosmetic service is safe, each comes with their unique benefits and disadvantages. For example, long-lasting results may require permanently altering your teeth, whereas a quick, minimally invasive procedure may need to be replaced more often. Weighing the pros and cons of each treatment with the help of your dentist is important for making a thoughtful decision.
4.) How Often Have You Performed This/These Procedure(s)?
You don't want to put the appearance of your pearly whites in just anyone's hands! Don't be shy to ask your dentist how familiar they are with the treatment you've chosen. They should have plenty of experience and training in cosmetic dentistry, and they may have before and after photos of other patients who underwent the same procedure.
5.) How Long Will Treatment Take?
Since every cosmetic service is just as unique as the smile it's enhancing, there is no one-size-fits all to this question. Your treatment timeline will depend on the amount and complexity of work that needs to be done. However, your dentist should be able to give you a rough estimate of how long your procedure will take after examining your teeth and gums.
6.) How Can I Maintain My Results?
Once you've improved your smile, you'll want to protect your investment. Ask your dentist if your results require special care or products to maintain. You can also ask how to best extend the lifespan of your results and if you'll need to come in for touchups or repairs.
What's holding you back from getting the smile you've always wanted? Schedule a consultation with your Jacksonville cosmetic dentist today and start your journey towards a beautiful set of pearly whites!
About the Practice
At North Jacksonville Complete Dentistry, we are dedicated to helping our patients achieve smiles that look and feel their best. We're proud to offer an array of the most modern cosmetic dental services to fit every lifestyle. Whether you are interested in straightening your teeth, brightening your pearly whites from home, or completely redesigning your smile, we have a treatment that can help. To discover if cosmetic dentistry is right for you, please contact us via our website or at (904) 751-4958.
Comments Off

on 6 Questions to Ask Your Dentist at Your Cosmetic Consultation
No Comments
No comments yet.
RSS feed for comments on this post.
Sorry, the comment form is closed at this time.