March 22, 2018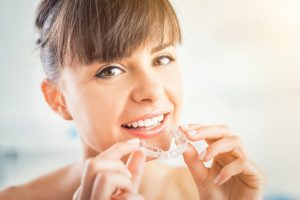 Braces come with an undeniable social stigma. All those brackets and wires are largely considered to be the realm of teeny boppers and awkward teenagers. They may look awkward or unprofessional on an adult whose days of adolescent angst are long past. But what if you have crooked teeth that you'd like to have corrected? Do you just have to suffer with the problem or submit yourself to the inconvenience and unattractiveness of braces? Thanks to Invisalign in Jacksonville, there is a better option!
Orthodontic Treatments Are Appropriate Adults
Let's get one thing straight right off the bat — if you have crooked teeth that are threatening your oral health or just downgrading your appearance, you're definitely not too old for braces. In fact, roughly one in five orthodontic patients is over the age of 18. Overall treatment times are a bit longer for adults on average because your bones have stopped growing and may be harder than those of younger people, but it's certainly still possible for your dentist in Jacksonville to help you get your teeth where they belong.
Some orthodontic treatments, like Invisalign, are designed specifically with the needs of grown-ups in mind.
Invisalign Helps You Maintain a Professional Appearance
Invisalign uses a series of clear thermoplastic aligners from your cosmetic dentist in Jacksonville. Each aligner will move your teeth just a little. Over the course of about a year, your pearly whites will migrate into their proper places.
There are no ugly metal brackets and wires. And although the aligners are possible for onlookers to see, they aren't overtly obvious. Plus, the aligners are easy to remove. If you want to take them out during your company's photoshoot or remove them when you're at your friend's wedding, you can do that (just be sure to keep them in for a total of 20 – 22 hours each day).
Other Advantages of Invisalign
Invisalign is appealing to adults for many reasons that go beyond their discreet appearance, including:
Since the aligners are removable, they allow you to eat and drink pretty much anything you want. You won't have to say no to popcorn on date night because you're afraid the kernels will get stuck in your braces!
Invisalign usually works a bit faster than traditional braces. It might only be a few months before you start to notice results.
The checkup appointments with your dentist are fast (maybe only 15 minutes or so), so you'll have to take minimal time out of your daily schedule to stay on top of your treatment.
As a mature adult, you aren't too old for orthodontic treatment, especially if that treatment is Invisalign in Jacksonville. Why not talk to your dentist to find out if it's the right way for you to get your teeth where they belong?
About Us
Drs. Johnson and Baxter love what they do, and they derive great satisfaction from helping their patients achieve healthy, attractive smiles. If you are curious about Invisalign, please contact us at 904-751-4958 to schedule a consultation.
Comments Off

on Think You're Too Old for Braces? Invisalign Makes You Think Again!
No Comments
No comments yet.
RSS feed for comments on this post.
Sorry, the comment form is closed at this time.