September 13, 2016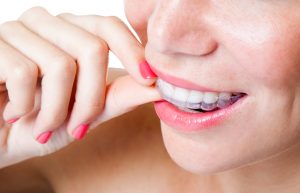 The scheduling-gods have finally blessed you and your old college friends. After months of last minute cancellations and rescheduling, you finally were able to meet up for dinner. Everyone has changed so much since you were in school. It seems someone always shows up engaged or has a child on the way. You have fun recounting the wilder times in the past, and reassure each other that you will get together soon. Pictures start surfacing online, and besides how much everyone has changed, you can't help but notice how crooked your teeth are. It's finally time to get them fixed. You've heard of Invisalign in Jacksonville, FL, but you don't know if it would be right for you. Are you even a good candidate for Invisalign? Can they help you?
How Invisalign Helps
As opposed to using brackets and wires like traditional braces, Invisalign helps straighten your teeth using a progressive series of clear plastic aligner trays. Each tray is set to be worn in a specific order so they can gently guide your teeth into alignment. These have a number of advantages over traditional braces, such as:
The clear plastic assures they are nearly invisible when worn
They are removable, which makes it easier for the patient to eat and clean their teeth as normal
They can work faster than braces, with treatment lasting about 8-18 months as opposed to 12-24.
Invisalign is ideal for the modern adult who wants to straighten their teeth while maintaining their professional image. They are also able to remain more comfortable since the aligners are not affixed to their teeth like braces. They are the perfect combination of comfort and effectiveness.
Is Invisalign Right for Me?
A good candidate for Invisalign is a person who is looking to correct the alignment of their teeth. Issues such as broken, chipped, or cracked teeth cannot be addressed by Invisalign. The health and color of teeth and gums are also not fixed by Invisalign, though we do offer other procedures that can help with these. Invisalign is best for those patients who have mild to moderate orthodontic issues, so anything severe might see the doctors recommend conventional braces. The trays must be worn about 20-22 hours a day, so it is imperative that you actually wear them to see the benefits. This is why Invisalign is recommended for patients who are more self-disciplined, hence why it is suggested more for adults and older teens. It is also more effective for adults because younger patients, such as children, may see a drastic change in their dental structure as they age.
Still Have Questions?
The best way to see if Invisalign is the right solution for you is to make an appointment with us today. That way we can give you a full examination and answer any questions to might have. Invisalign has been able to help many people straighten their teeth with comfort and confidence. Come see us today if you think it would be right for you.
Comments Off

on Are You A Good Candidate for Invisalign in Jacksonville, FL?
No Comments
No comments yet.
RSS feed for comments on this post.
Sorry, the comment form is closed at this time.