May 14, 2017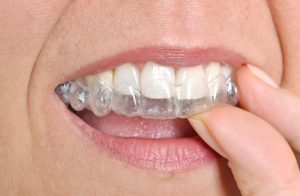 At North Jacksonville Complete Dentistry, we love guiding our patients through the Invisalign process. The clear braces treatment helps people enjoy fabulous results without the hassle or potential embarrassment of metal braces. Invisalign on Dunn Avenue also requires less maintenance than is necessary with metal brackets and wires, but you still need to keep a few things in mind to take care of your aligners and advance through the treatment without delay. We cover Invisalign maintenance in this week's blog post!
Caring for Your Invisalign Aligners
Invisalign maintenance may seem intense at first, but it's really not so difficult once you get into the routine. We will talk you through the steps when you first receive your series of trays. Feel free to contact us at any time with questions. Staying on top of the following four steps will keep your trays clean and functioning properly for the duration of your treatment.
#1: Clean Them Frequently
Your Invisalign trays are a perfect breeding ground for foul-smelling bacteria, and if you don't clean them properly before you put them in your mouth, you'll probably wind up with bad breath. The trays can also trap bacteria right up against your tooth enamel, accelerating the rate of tooth decay and leaving you at a higher risk of gum disease.
How to prevent the bacteria buildup? Rinse your trays every time you take them out of your mouth. You can also soak them periodically using a denture soak or the Invisalign Cleaning Crystals for a more thorough clean. Use only cool or warm water to prevent warping. Brush your aligners gently using a mild hand soap.
#2: Remove for Eating and Drinking
One of the great benefits of Invisalign is that you can remove the aligners before you eat or drink anything — so your orthodontic treatment won't impact your diet one bit. Do make sure you take them out every time you eat or drink anything besides water. Taking even the tiniest sips of coffee or any other highly-pigmented beverage while wearing the aligners can cause them to stain, and hot temperatures also cause warping. Plus, sugars from what you eat or drink could get trapped between the trays and your tooth enamel, leaving you at a far greater risk of cavities.
#3: Proper Storage
Make sure you store your Invisalign trays properly any time you are not wearing them. Don't wrap the trays up in a napkin while you eat — we've seen many lost to the garbage that way! Instead, use the hard, ventilated case that your trays come with to ensure they maintain their shape and don't get lost while you're not wearing them.
#4: Contact Us If Something Goes Wrong
If something does happen to one of your aligners, make sure you get in touch with your cosmetic dentist on Dunn Avenue right away. Dr. Johnson will provide a solution to ensure your treatment is not significantly delayed.
Get In Touch With Us Today!
Do you have questions about proper Invisalign maintenance? If so, please do not hesitate to get in touch with your cosmetic dentist in Jacksonville. We are happy to talk you through treatment!
Comments Off

on Invisalign on Dunn Avenue: How to Care for Your Aligners
No Comments
No comments yet.
RSS feed for comments on this post.
Sorry, the comment form is closed at this time.