June 3, 2017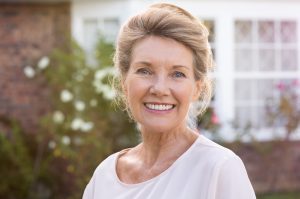 Your teeth have been problematic your entire life – no matter how much you've brushed and flossed, you knew they weren't long for this world. So it actually came as a relief when you had the most bothersome ones removed and your new dentures in North Jacksonville are an upgrade to your smile. But now that you've started on your denture adventure, how should you take care of them? In this post, learn the tips you need to get the most out of your replacement pearly whites from the team at North Jacksonville Complete Dentistry.
How Should I Care For My Dentures?
As your trusted restorative dentist in North Jacksonville, Dr. Ryan Johnson and Dr. Baxter like to educate their denture patients on the following tips to maintain their artificial teeth:
Remove & Rinse – After you eat, take your dentures out and rinse them (along with your mouth) out with tap water. Since dentures should be treated delicately, consider using a soft cloth or hand towel to place them on during the process.
Go Easy – Take care of your dentures by handling them with care. If you have a partial denture, be sure not to bend or damage the plastic or the wire clasps that are used to hold them in place.
Care For Your Gums – In addition to rinsing your mouth out after you eat, use a soft-bristled toothbrush on any remaining teeth, or try utilizing gauze to clean your gums, tongue, cheeks, and roof of your mouth.
Clean Them Everyday – You should have a solid oral hygiene routine when you switch to false teeth, which includes cleaning your dentures with a special brush and a non-abrasive denture cleanser – don't use regular toothpaste on your prosthetics, as this can damage them. Be gentle and, if you use adhesive pastes, be sure to clean in the grooves to remove any residue.
Soak 'Em Overnight – To ensure your dentures retain their shape and proper fit, soak them in water, a solution of vinegar and water, or a mild denture soaking solution at night. Always be sure to rinse your dentures thoroughly with water before placing them back in your mouth – especially if using soaking tablets to clean them.
See Your Dentist – Routing dental care is crucial when you have artificial teeth. Our team will let you know when it's time to have your dentures professionally cleaned, keep a close eye on any remaining teeth, and ensure your dentures fit properly and don't cause pain when you see us often enough.
With proper care, your dentures can last for years, if not decades! So use the tips above to maintain your artificial teeth and give us a call or schedule an appointment with North Jacksonville Complete Dentistry to restore your smile to its former glory today!
Comments Off

on How To Care For Your Dentures In North Jacksonville
No Comments
No comments yet.
RSS feed for comments on this post.
Sorry, the comment form is closed at this time.